Boating Accidents

Attorney in Bloomington, Illinois
According to the Illinois Recreational Boating Report for fiscal year 2020, the state witnessed 81 boating accidents, resulting in 36 injuries and 21 fatalities for the 12 months ending on September 30, 2020. A total of 113 vessels were involved.
During the same period, Illinois had 216,175 registered boats on the books. Some 863 boat operators were issued citations, another 3,208 were given written warnings, and 102 boaters were arrested for operating under the influence (OUI).
If two vessels collide, boat operators will likely share responsibility to some extent. Assessing liability in boating accidents can sometimes prove difficult.
If you're injured in a boating accident and reside in or around Bloomington, Illinois, including the neighboring areas of Decatur, Normal, Champaign, Peoria, or Clinton in DeWitt County contact the boating accident attorneys at Dodds Law Office, PC. We will listen to your story, assess liability, and present you with options so that you can seek the compensation you deserve.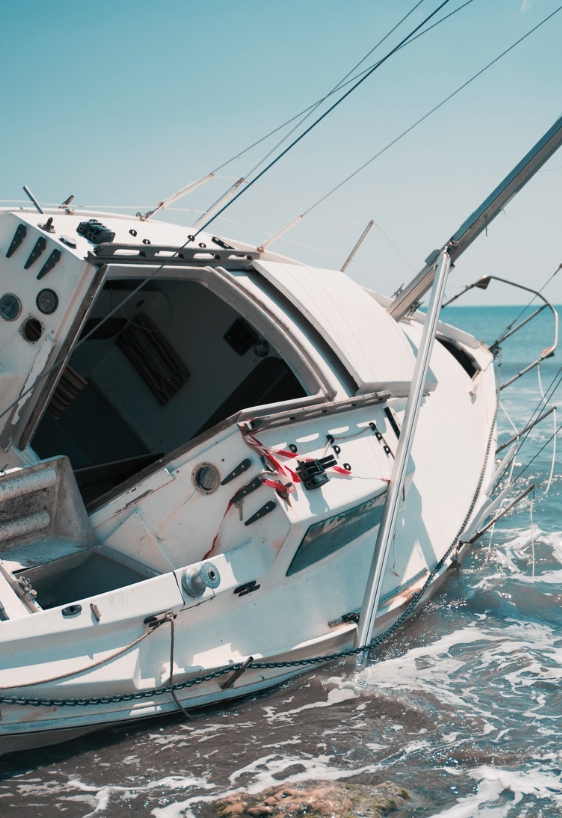 Laws Governing Boating Operations
Illinois addresses recreational boating with a number of laws and regulations. Specifically, 65 ILCS declares certain boating practices as illegal. These practices include:
Careless Operation: Speeding that prevents an assured stop within a "clear distance ahead," or operating carelessly and endangering people or property
Reckless Operation: Weaving through congested traffic; creating hazardous waves or wakes; waiting until the last minute to swerve to avoid collision
Overloading or Overpowering: Carrying a load beyond capacity or exceeding the horsepower limits set by the manufacturer of your vessel
Operating in Restricted or "No Wake" Areas: Operating in an area clearly marked for fishing, bathing, or swimming; operating above speed limits within 150 feet of a public launching ramp; or exceeding 5 mph in a "No Wake" area or an area restricted by buoys
Types of Boating Accidents
The four most common types of recreational boating accidents are collisions with another vessel, hitting another vessel's wake, hitting a wave, and hitting a submerged rock or object.
The U.S. Coast Guard lists the leading causes of boating accidents as:
Operating a vessel while distracted (inattention)
Operator inexperience
Excessive speed
Alcohol use
Mechanical failure
Navigation rules violations
Assigning Liability in A Boating Injury Claim
Say you're injured in a boating collision as a passenger. Either or both boating operators could be partially or fully responsible. If you're injured from your vessel hitting a wake or wave, did your boating operator do everything possible to avoid the accident by operating safely? Or was he or she inattentive or operating recklessly?
Assigning liability can be difficult in a boating accident. There is also the possibility that someone other than an operator could be at fault or share the blame. Under the legal concept of vicarious liability, the boat's manufacturer could be held liable if a mechanical defect led to the accident and resulting injuries. So could someone who worked on the vessel but created a mechanical condition that led to the accident.
If the owner-operator of a marina fails to post warning signs or follow recognized safety rules, that person could be liable as well. The owner of a dock who fails to keep it in safe and operable condition could be on the hook as well.
To prevail in a personal injury claim, you must prove negligence on the part of someone (or on more than one person or entity). Negligence means that someone else had a "duty of care" for your safety and well-being, and that duty was breached. For instance, if you're struck recklessly by another boat, you would need to show that the operator of that boat:
Had a duty of care to avoid colliding with you,
Breached that duty of care, and
The breach resulted in your injuries and/or property damages
Illinois boating laws and regulations clearly place a duty of care on any operator of a waterborne vessel.
Modified Comparative Negligence in Illinois
In a personal injury claim, under the state's employment of the legal principle of modified comparative negligence, you cannot make a claim against another if your share of the negligence rises above 50 percent. If your claim goes to court, the jury will be asked to assign a percentage of negligence to each party involved.
If you're the operator of Vessel A and claim that the operator of Vessel B recklessly collided with you, but the jury finds you were speeding as well, you might be assigned 30 percent (or more or less) of the fault. Thus, if you're awarded $50,000 in compensation for your injuries and suffering, you'll receive only $30,000 after your 40 percent portion is deducted.
If you're a passenger injured on a boat operated by another, you likely will have no percentage of negligence unless you contribute to the operator's negligence by distracting him or her or doing something else to help cause the accident. Or, if you're not wearing your required lifevest and get thrown overboard and injured, you will likely be found negligent as well.
Boating Accident Attorneys in Bloomington, Illinois
Boating accidents can involve many more layers of responsibility and negligence than a fender-bender. Just sorting through the circumstances to see who did what, or failed to do something, can be daunting.
If you've been injured in a boating accident, rely on the personal injury and boating accident attorneys at Dodds Law Office, PC. We will listen to your story, investigate the circumstances, weigh your options, and advise you of the best path going forward. We will then fight aggressively to recover the compensation you deserve for your injury and suffering.
Contact us immediately after your accident if you're in or around Bloomington, Illinois, including the surrounding communities of Decatur, Champaign, Normal, and Peoria.
I highly recommend Dodds Law Office to anyone that needs help with a case.
Terry fought for me for the last two years on my workmen's compensation case. Terry will be my to go to guy if I have anything come up in the future. Couldn't ask for a better attorney to fight for you.
Thanks again Terry, you are the best.!!
What Type of Attorney Do You Need?
In addition to providing defense against drunk driving charges in Illinois, the attorneys at Dodds Law Office, PC, represent victims of a variety of injury accident types.