Boat Accident Lawyer in Bloomington, Illinois
From Lake Michigan to Lake Bloomington, the waterways throughout Illinois are a hotspot for recreational boaters and fishers. Unfortunately, negligent behaviors can quickly turn a relaxing day at the lake into tragedy. Intoxication, recklessness, speeding, equipment failures, and the lack of proper safety equipment can cause boating accidents that cause operators, passengers, skiers, and swimmers serious injury or death.
If you suffered injuries or your loved one was killed in a boating accident in or around Bloomington, Illinois, medical bills, lost wages, and other financial losses can make it difficult to focus on your recovery. Boat accident lawyer Terry Dodds at Dodds Law Office, PC can help. Contact our law firm to discuss your right to pursue a claim for financial compensation.
Call the Bloomington boat accident attorneys at Dodds Law Offices, PC, to recover compensation for your losses. (309) 829-9300. Free consultation.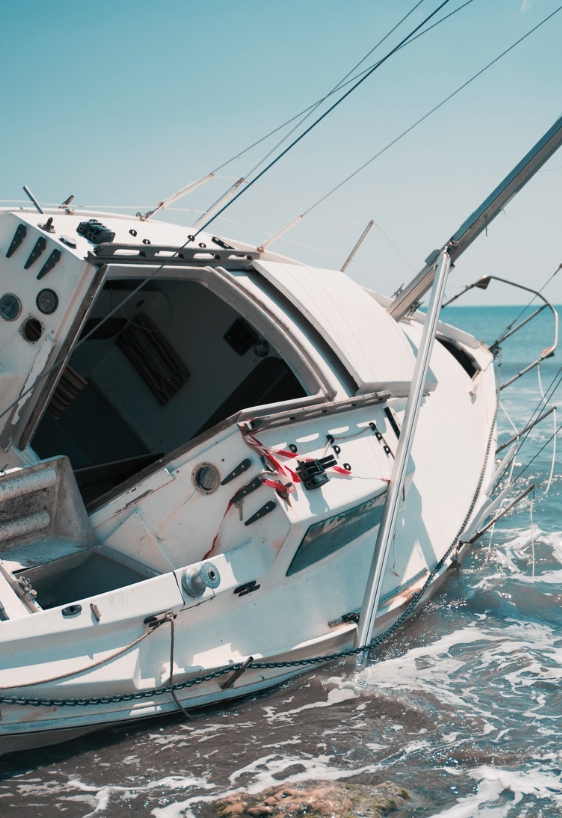 Common Causes of Illinois Boating Accidents
Boating under the influence is the top contributing factor in boat accidents that cause fatality, according to the U.S. Coast Guard.
Reckless or careless operation of a boat includes speeding, weaving through congested traffic, creating hazardous waves or wakes, and waiting until the last minute to swerve to avoid collision. 
Piling too many people onto a boat can cause the vessel to sink, putting the lives of boat operators and passengers in danger.
Inadequate maintenance and defective parts can cause lights, engines, propellers, and other important systems to fail.
Liability in Boating Accident Lawsuits
Determining liability in a boating accident can be difficult because various factors often contribute to these crashes. If your boating accident involved multiple boats, one or all boating operators could be partially or fully responsible. There is also the possibility that someone other than an operator could be at fault or share the blame. You may be able to file negligence claims against the at-fault party's insurance company, the owner or operator of the boat, a negligent parts manufacturer, or a number of other parties.
Under the legal concept of vicarious liability, the boat's manufacturer could be held liable if a mechanical defect led to the accident and resulting injuries. So could someone who worked on the vessel and created a mechanical condition that led to the accident.
If the owner-operator of a marina fails to post warning signs or follow recognized safety rules, that person could be held responsible as well. The owner of a dock who fails to keep it in safe and operable condition could also be on the hook.
Proving Negligence in Boating Accidents
To prevail in a personal injury claim, Bloomington and Chicago boat accident lawyers will help you prove negligence on the part of someone (or on more than one person or entity). Negligence means that someone else had a "duty of care" for your safety and well-being, and that duty was breached. For instance, if you're struck recklessly by another boat, you would need to show that the operator of that boat:
Had a duty of care to avoid colliding with you,

Breached that duty of care, and

The breach resulted in your personal injuries and/or property damage
Illinois boating laws and regulations clearly place a duty of care on any operator of a waterborne vessel.
Get Personal Injury Claims Advice from a
Bloomington Boating Accident Attorney
If you were injured in a boating accident, you probably have a lot of questions about what to do next, and how the legal process works. You need guidance and legal representation from an injury lawyer who has handled cases similar to yours and has a track record of success.
The boating accident lawyers at Dodds Law Office, PC will listen to your story, investigate the circumstances that caused your boating injuries, weigh your legal options, and guide you on your path to recovery. 
Illinois Waterways Where Most Boating Accidents Occur
Most boat accidents that occur in Illinois happen on Lake Michigan, the Chicago River, the Illinois River, Wauconda Bay, Chain O'Lakes, and Fox River. While some of these serious accidents happen because of adverse weather conditions, the negligence of a boat operator or another party is usually a contributing factor.
Types of Illinois Boating Accident Cases Our Lawyers See
Several types of recreational boating accidents occur on Illinois waterways. The often involve pontoon boats, ski boats, fishing boats, and jet skis. The four most common types of boating incidents that cause serious injuries and deaths are collisions with another vessel, hitting another vessel's wake, hitting a wave, and hitting a submerged rock or object. 
Common Boat Accident Injuries
Operators and boat passengers involved in crashes on the water may suffer a wide range of injuries. According to the Illinois Recreational Boating Report for fiscal year 2020, 81 boating accidents resulted in 36 serious personal injuries and 21 fatalities. A total of 113 vessels were involved. Soft tissue injuries, such as whiplash, as well as spinal cord damage, head injuries, burns, lacerations, broken bones, and drowning are some of the most commonly occurring injuries from boat accidents.
Why Hire an Illinois Boat Accident Lawyer?
Illinois boating accidents often involve many more layers of responsibility and negligence than a fender-bender. Just sorting through the circumstances to see who did what, or failed to do something, can be daunting. Boat accidents may result from someone else's negligence, equipment failure, weather or water conditions, or other such factors.
Additionally, boat operators and owners may lack insurance coverage. Even if they do have a policy, the insurance company will likely look to pay out as little as possible. An experienced attorney will be familiar with the applicable personal injury and maritime law, including the Jones Act, to help you recover maximum compensation.
If you were injured in a boating accident on one of the many Illinois waterways, you have a right to recover compensation for your medical expenses, lost wages, and more. Call boating accident lawyer Terry Dodds for a free consultation.
Get the Answers to Boat Accident Victims' Most Frequently Asked Questions
How long do I have to file a personal injury lawsuit for boating-related injuries?
With few exceptions, you have up to two years after the date of your boat accident to collect damages for your resulting losses. Filing outside the state's statute of limitations may result in a dismissal of your case, and loss of your right to recover compensation. As such, it's important to begin working with a boat accident attorney as soon as possible.
What damages can the injured party recover in a boat accident case?
If you suffered harm in a boat accident on an Illinois river or lake, you may recover compensation for your economic and non-economic losses caused by the incident. Eligible damages in such cases may include the costs for any related medical attention, lost earnings, pain and suffering, and property damage.
How much is my boating accident case worth?
Although boating accident attorneys cannot guarantee how much you will receive, or even whether your negligence claim or personal injury lawsuit will be successful, experienced boat accident lawyers will be able to provide you with a fairly accurate estimate of how much to expect. Your lawyer will consider the severity of your injuries and the sources of compensation (insurance policies, etc.) available when estimating the value of your case.
Can I still recover compensation if I'm partially at fault for the boat car accident?
Illinois personal injury law follows the legal principle of modified comparative negligence. Under this rule, you cannot make a claim against another if your share of the negligence rises above 50%. If your claim goes to court, the jury will be asked to assign a percentage of negligence to each party involved.
If you're the operator of Vessel A and claim that the operator of Vessel B recklessly collided with you, but the jury finds you were speeding as well, you might be assigned 30% (or more or less) of the fault. Thus, if you're awarded $50,000 in compensation, you'll receive only $35,000 after your portion is deducted.
I highly recommend the Dodds Law Office. Terry Dodds is very personable, easy to talk with and listens and explains everything, so you understand exactly where he stands. I wasn't sure he would take my case, but after listening to my story, he didn't hesitate to accept. He will definitely fight for you no matter what roadblocks occur. He is very knowledgeable and persistent in his quest to give you the best outcome he can. He keeps you well-informed. I know he has fought long and hard for me, and I am forever grateful for his integrity and hard work. He took the burden and stress off me completely and took on my fight.
What Type of Accident Attorney Do You Need?
In addition to providing representation to those injured in Illinois boating accidents, the attorneys at Dodds Law Office, PC, represent victims of a variety of injury accident types.

For help resolving your legal matters in Bloomington, call a boat accident lawyer with Dodds Law Office.
Learn More About Boating Accident Cases in Bloomington, Illinois
Important Points of a Personal Injury Case
Waiting too long or seeking treatment too late can result in the insurer not agreeing to pay medical bills. Delaying treatment can result in making the plaintiff less believable as it relates to their pain or their injury complaints.
New Illinois Prejudgement Interest Act
In January 2021, the Illinois General Assembly finally passed legislation to enable Illinois Personal Injury Claimants to collect prejudgment interest in cases which resulted in bodily injury.