Bloomington

Motorcycle Accident Attorney
If you are a biker who was involved in a motorcycle accident, chances are good that your injuries are severe. You are most likely facing substantial medical bills. You're probably unable to work. Although filing an injury claim to recover compensation is a good start, you have a long road to recovery ahead of you. Unfortunately, the other driver's insurance company isn't going to make your recovery any easier. Experienced Bloomington motorcycle accident attorney Terry Dodds can help.
Terry Dodds understands the tactics that insurances companies will use to try and keep you from receiving the compensation you're entitled to receive. Terry has recovered millions on behalf of injured victims like you, and he knows what it takes to win your motorcycle accident case.
For a legal team with an extensive background in motorcycle accidents, Call a Bloomington, IL lawyer at Dodds Law Office. (309) 829-9300. FREE consultation.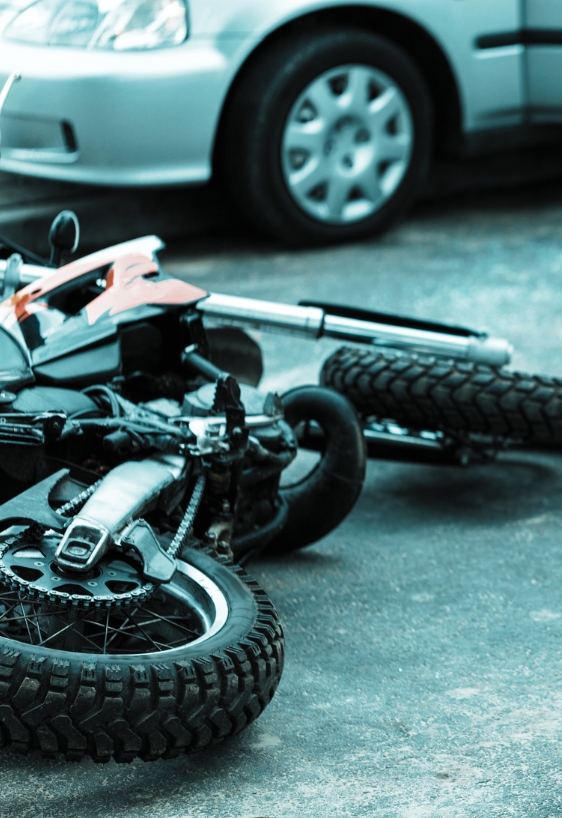 Why Hire Illinois Motorcycle Accident Lawyer Terry Dodds?
The lawyer you choose to handle your motorcycle accident case will have a substantial impact on the outcome of your case. Not all motorcycle accident lawyers are created equal, however. What sets Terry Dodds apart from other motorcycle injury lawyers in Bloomington?
We Win More for Motorcycle Accident Victims
Unlike many personal injury lawyers, who settle motorcycle accident cases quickly and put their own bottom line ahead of their clients' best interests, Terry prioritizes your financial recovery and your wellbeing. As a skilled litigator and experienced negotiator, Terry strives to help you win full compensation.
We Will Keep You Informed About What to Expect
Terry takes pride in keeping his clients updated about the progress of their personal injury cases. He will answer any questions you have, address your concerns, and make sure you know what to expect as your motorcycle accident case moves toward a settlement or jury award.
A Track Record of Success
Terry has successfully handled countless motorcycle accident cases in Illinois. Hiring an experienced motorcycle accident lawyer with a proven track record of success will help ensure you get full and fair compensation for your losses.
We Are Not Afraid to Go to Court
Motorcycle accident lawyer Terry Dodds negotiates with insurance companies to try to obtain a fair settlement outside of court. If negotiations are unsuccessful, however, he will bring your personal injury lawsuit to court to ensure you recover compensation that is fair.
Contact motorcycle accident lawyer Terry Dodds at Dodd's Law Office in Bloomington. Call (309) 829-9300 FREE consultations.
Why Do You Need to Hire a Motorcycle Accident Lawyer?
Motorcycle riders are not protected by an enclosed passenger compartment, and bikes are significantly smaller and lighter than passenger cars and large trucks. As a result, bikers are especially vulnerable to severe injuries and wrongful death when motorcycle accidents occur. Multiple surgeries, extensive hospital stays, and ongoing medical care are common for those who survive.
Victims are left facing substantial medical bills, lost wages, and physical and emotional pain and suffering. Unfortunately, recovering compensation through a personal injury claim or wrongful death lawsuit is not as straightforward as it should be. Without an Illinois motorcycle accident lawyer to protect their rights, injured riders are often at the mercy of insurance companies when trying to pursue compensation. 
How Will Illinois Motorcycle Accident Lawyer Terry Dodds Help You Recover?
From the moment you contact experienced lawyer Terry Dodds for your free case evaluation, our legal team will begin focusing on your recovery. If you choose to take legal action, our law firm will:
Investigate the accident scene and identify the cause(s) of your motorcycle accident

Help you access quality medical treatment for your motorcycle accident injuries

Estimate the value of your medical expenses, lost wages, and pain and suffering

Negotiate with the insurance company to reach a settlement that is appropriate

Represent you in court if the insurance company fails to negotiate a fair settlement
 Contact a Bloomington Motorcycle Accident Lawyer at Dodd's Law Office for a free consultation. Let's get started on your recovery. Call (309) 829-9300.
Get Personal Injury Claims Advice from Our
Bloomington Motorcycle Accident Lawyers
Experienced attorney Terry Dodds takes pride in helping members of the motorcycle community navigate the legal process after suffering severe or permanent injuries in motorcycle accidents.  One of the most common questions bikers ask Terry is, "What do I do if I get into a motorcycle accident?" To help protect your rights and your wellbeing, Terry recommends that you: 
Get Medical Treatment After a Motorcycle Accident
A motorcycle accident victim should get evaluated by a medical professional as soon as possible after a crash, even if injuries are not apparent or do not seem serious. Go to the doctor immediately. While some injuries, like road rash, make be obvious right away, others can take hours or days to display symptoms. If you have a traumatic brain injury or internal bleeding, delayed medical treatment could cost you your life.
Don't Discuss the Accident with the Other Driver or the Insurance Company
Avoid discussing your accident with the other driver, that person's insurance company, or anyone else. The insurance company's investigators will be paying close attention to your responses, and they will use what you say against you to avoid paying out on your claim. Even a simple remark like, "I'm sorry" can jeopardize your right to recover compensation for the injuries your Illinois motorcycle accident caused.
Gather Evidence from the Accident Scene
If your condition is stable, and you have the ability to do so, use your cellphone to take pictures or videos of the accident scene. Capturing vehicle damage, skid marks, accident debris, the location of traffic lights, and anything else that may impact your case is critical. Additionally, witness statements will help your personal injury lawyers demonstrate that traffic laws were violated, aggressive driving occurred, or another form of driver negligence caused your crash.
Avoid Posting on Social Media After a Motorcycle Crash
Insurance companies and their attorneys frequently use social media posts to show that victims of motorcycle crashes aren't hurt as badly as they say. In some cases, they even use comments and photographs to twist the facts, pointing fault for motorcycle accidents, on other drivers or innocent victims. The easiest way to avoid this is to stay off social media platforms until your case is resolved.  
Motorcycle Accident Victims' Most Frequently Asked Questions
What happens to the human body in a motorcycle accident?
Because a motorcycle doesn't offer the same protection as a passenger vehicle, the human body generally suffers substantial damage in a motorcycle accident. Motorcycle accidents often cause severe head injury, spinal cord injuries, road rash, broken bones, internal bleeding, and dismemberment. In cases involving high rates of speed, large commercial trucks, or the lack of helmets and other protective gear, suffering a fatal motorcycle accident is likely.
What percentage of motorcycle riders die in accidents?
Approximately 6.8% of motorcycle riders and passengers who are involved in accidents suffer fatal injuries. Motorcycle accidents contribute to 14% of all traffic fatalities in the United States. Motorcycle crashes are about 28 times more likely to result in at least one fatality than passenger vehicle accidents.
What are the main causes of motorcycle rider deaths?
Impaired driving and speeding are leading causes of motorcycle rider deaths. In 2020, 27% of riders who were killed in crashes were alcohol-impaired. Additionally, nearly one-third of fatality accidents involved speeding. Riders not wearing a helmet significantly increased the risk of death in motorcycle accidents.
The team at Dodds Law Office is fantastic. They handled my difficult case with tenacity and gave it the attention it deserved. Without Terry and Jeanette, I wouldn't have been able to get such a successful ending to a three-year legal battle. I am thankful for their hard work and superior attention to detail. If you need an attorney that will fight until the job is done, Terry Dodds is your man.
What Type of Illinois Accident Lawyer Do You Need?
Experienced accident lawyer Terry Dodds handles cases that arise from various types of situations. 
Learn More About Motorcycle Accidents in Bloomington
First 72 Hours After an Accident
If you have been involved in a motor vehicle accident, you may feel disoriented and overwhelmed in the days that follow. The steps you take in the first 72 hours after an accident can greatly affect the outcome of your case.
The Car Accident Claims Process in Illinois
As the nation and the state of Illinois recover from the lockdowns and restrictions of the pandemic, people are returning to the roads at near record levels, according to the National Safety Council. Miles traveled rose 11 percent in 2021 from the year before and stood at just 1 percent below 2019 pre-pandemic levels.
Important Points of a Personal Injury Case
Waiting too long or seeking treatment too late can result in the insurer not agreeing to pay medical bills. Delaying treatment can result in making the plaintiff less believable as it relates to their pain or their injury complaints.