Motorcycle Accidents

Attorney in Bloomington, Illinois
The moments after a motorcycle accident can seem like a blur. Being thrown from the bike and getting the necessary medical attention can overwhelm a victim. Knowing that you have rights is often the first step on the road to recovery. If someone else is at fault for the accident in which you were hurt, you need to speak to an attorney as soon as possible. You may be eligible to recover compensation and a consultation with an experienced injury lawyer can help you figure out the right move for you.
For a legal team with an extensive background in motorcycle accidents, Call a Bloomington, IL lawyer at Dodds Law Office. (309) 829-9300. FREE consultation.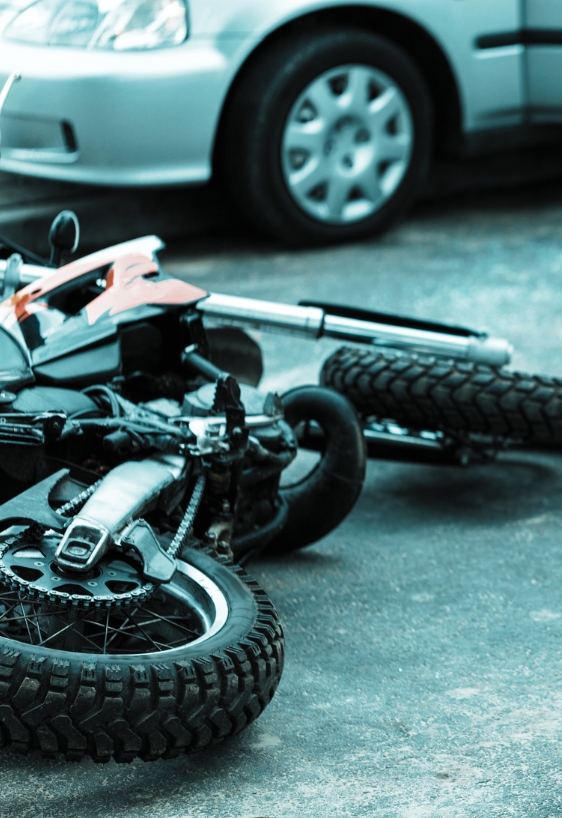 Common Causes and Injuries of Motorcycle Accidents
Unfortunately, motorcycle accidents are all too common and can lead to devastating injuries. The passengers and drivers inside a traditional passenger vehicle will have more protections in the event of an accident due to extensive crash testing. Seatbelts, airbags and other safety features have all been designed specifically to minimize the impacts of a crash or to prevent it altogether. On a motorcycle, however, a victim can be thrown from the motorcycle and into oncoming traffic, a stationary object or anything else on the road.
This can lead to significant injuries that the victim may never be able to fully recover from. Recognizing this, Illinois personal injury law empowers victims who have been hurt as a result of another driver or person's reckless or negligent behavior to pursue a personal injury claim.
A personal injury claim might be the only opportunity to win compensation for the injuries you have sustained as they relate to your medical bills, your present and future lost wages, and other expenses associated with the accident itself.
Turn to a skilled an experienced personal injury attorney after a motorcycle accident.
Injuries in Motorcycle Accidents
Some of the injuries often present for victims after a motorcycle accident can be difficult to diagnose. This is why it's so important to go to the hospital and consult with a medical professional right away. Some more serious injuries, such as a traumatic brain injury or spinal cord problem, might need to be diagnosed after testing. If you have any of the following serious injuries associated with a motorcycle accident in Bloomington, you might have grounds to file a personal injury claim against the responsible party:
Road rash
Fractures
Broken bones
Sprains and strains
Organ damage or internal bleeding
Traumatic head injuries
Spinal cord injuries
Burns
Scars or disfigurement
Even if you were wearing your helmet or other protective gear, accidents can and do happen. The only way to protect your future is to consult with an experienced motorcycle accident attorney immediately to get a better understanding of your rights and responsibilities. The right lawyer can help you navigate the complex process of filing a claim to recover compensation for your injuries.
What You Need to Do After a Motorcycle Accident in Bloomington
One of the most important steps you can take to empower yourself is to consult with an attorney as soon as possible after the accident occurs. Given that your life might never be the same, your only potential recourse for recovering from such an accident might be to file a personal injury claim. Life is certainly difficult after a motorcycle accident, but having the peace of mind and confidence that comes with hiring an experienced attorney can go a long way towards minimizing the anxiety and fear you feel about being involved in a vehicle accident.
A motorcycle accident can carry serious consequences so it is in your best interest to get medical attention immediately after the accident occurs and to consult with a lawyer sooner rather than later. Do not hesitate to get the help that you need when you have been injured in a motorcycle accident.
Bloomington, Illinois Motorcycle Accident Attorney
When you or someone you know has been hurt in a motorcycle accident, there are other things you'd rather take care of than figuring out who is at fault and how you'll be made whole. While you put your bike, your life and yourself back together Terry Dodds can take care of the rest and you can sleep easy knowing that he has your back.
Terry Dodds has been extremely helpful with my case in the past. My charge was a possible felony, and Dodds Law Office took matters in their own hands and moved the charge down to a misdemeanor with extreme haste. He and his team are spectacular at what they do and will provide the best service with the best outcome possible. I highly recommend working with Dodds Law Office in the future.
What Type of Attorney Do You Need?
In addition to providing defense against drunk driving charges in Illinois, the attorneys at Dodds Law Office, PC, represent victims of a variety of injury accident types.