Slip and Fall Accidents

Attorney in Bloomington, Illinois
As a Bloomington, Illinois based personal injury attorney who has been in practice since the very turn of the Century (now accounting for over 20 years of experience), some of the hardest cases to turn away have been slip-and-fall or slip-n-fall cases. We also get our fair share of inclement weather in this corner of the Midwest—here in Central Illinois. During the cold winter months in Bloomington, IL, we get several wintery mixes of sleet, snow, and ice per year. Injuries from falls on the snow, the ice, a pool of water, or other liquid can be severe. Our office has seen broken hips, broken legs, torn ligaments, torn tendons, and all sorts of other soft tissue injuries. So, why then must we be so selective when choosing to take on these slip-and-fall cases or slip-n-fall cases then? My simple answer is, because they can be a slippery slope. Puns aside, what I mean by this is that, while individuals often sustain severe injuries when falling on snow, or ice, a pool of water, or other liquid, liability can sometimes be tricky. Due to the severity of injuries accompanying such cases, the recovery from those cases quite possibly could have been substantial, but chasing them could have potentially led to an injury of a different kind—economic injury from expending vast amounts of time, money, and energy chasing them. Of course, our office has also successfully prosecuted many such cases of this kind as well, which I may choose to write about in greater detail at a later date, but I think over the years it has proven prudent to be very selective in choosing which of these cases to pursue.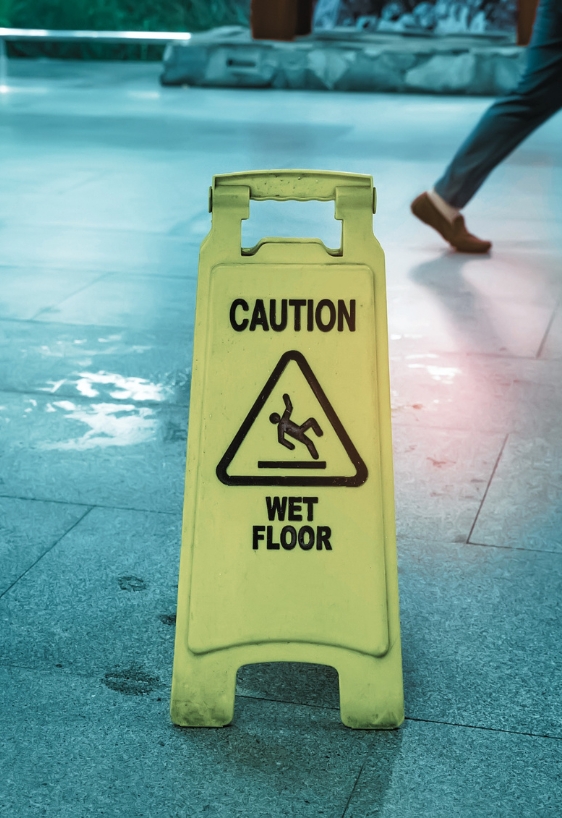 If you would like to discuss your slip-and-fall case with us, please contact us.
One very common type of slip-and-fall, or slip-n-fall, case that Illinois Personal Injury Attorneys often receive calls about are cases involving snow and ice after periods of inclement weather. Cases in Illinois due to inclement weather are some of the more difficult cases for Illinois Personal Injury Attorneys, and Illinois residents who suffer injury from a fall of this type, to navigate. This has become increasingly true over the years as the Illinois General Assembly and the Illinois courts have continued to place obstacles in the path of those trying to seek recovery for such injuries. A 2015 Illinois Supreme Court decision, and the Illinois Appellate Court opinion preceding it, discussing such a case provides a very thorough summary of the present state of the law involving cases of this nature. That case is titled Murphy-Hylton v. Lieberman Mgmt. Servs., 2016 IL 120394, 72 N.E.3d 323 (Ill. 2016). The case provides an important analysis of the Illinois Snow and Ice Removal Act (745 ILCS 75/0.01 et seq.), and some of the hurdles Illinois Personal Injury Attorneys often encounter when filing a lawsuit for injuries resulting from a fall on the ice here in Illinois.
If you were injured on someone else's property due to their negligence, contact us today.
The case began in 2011 when the Plaintiff, Ms. Pamela Murphy-Hylton, slipped on some ice on the sidewalk just outside the condominium she owned in Carol Stream, Illinois. Murphy-Hylton, 72 N.E.3d at 324. Defendant Klein Creek owned and controlled the common areas. It hired Defendant Lieberman Management Services, Inc. to manage the property, including the responsibility of securing snow and ice removal. Id. at p. 325. Interestingly, at the time of Ms. Murphy-Hylton's fall, there had not been snow in the area for 11 days. 11 days prior there had been, what was described as, "a large snowstorm" that produced more than 20 inches of snow. Id. Ms. Murphy-Hylton alleged that as she was walking on the sidewalk behind the building on the way to the parking lot, she slipped and fell on an unnaturally accumulated patch of ice, fracturing her leg, knee, and hip. She described the patch of ice "as about the size of a letter-sized piece of paper. She believed that the ice that caused her fall resulted from water that had accumulated on either side of the sidewalk." Based on her previous observations, she testified that the water possibly could have resulted from run off from the downspouts affixed to either side of the building, which would travel down the grass, and then collect on the sidewalk. There it would freeze instead of drain onto the parking lot. Id. at p. 325.
Ms. Murphy-Hylton's observations of the water run off proved important to the survival of her case. What was also likely equally important was that her attorneys took to the time to investigate the site of her accident, and that her attorneys were equally familiar with the landscape of such cases, including the pitfalls of the Illinois Snow and Ice Removal Act, amending their Complaint a total of 4 different times to be certain that they avoided those pitfalls. See, the Illinois Snow and Ice Removal Act provides refuge to property owners who voluntarily undertake the task of removing natural accumulations of snow and ice on their property. Id. at p. 329. As the Illinois Supreme Court described it, enacted in 1979, the Act provides immunity to "residential property owners for liability in connection with their snow or ice removal efforts in order to encourage them to 'clean the sidewalks abutting their residences of snow and ice.'" Id. quoting 745 ILCS 75/1, 2 (West 2010). The Illinois Snow and Ice Removal Act also closed an exception carved out of the common law rule by crafty Illinois personal injury attorneys that allowed slip-and-fall injury victims to recover from landowners who negligently removed snow and ice from their premises or voluntarily took it upon themselves to remove snow or ice, but did so negligently (voluntary undertaking doctrine). The exception changed the general rule that foreclosed a cause of action against a landowner for natural accumulations. Armed with the legal knowledge of exceptions to general rules and knowing that there are possible ways to avoid the immunity provided for in the Act, an Illinois Personal Injury Lawyer can possibly construct their lawsuit in such a way that it survives a Motion for Summary Judgment, which is exactly what Ms. Murphy-Hylton's attorneys were able to do in this instance.
Knowing the lay-of-the-land and conducting, what I am sure was, a thorough and proper investigation of the accident scene in Ms. Murphy-Hylton's case proved vital to the survival of Ms. Murphy-Hylton's lawsuit. Also important was the fact that Ms. Murphy-Hylton's attorneys knew that the Illinois Snow and Ice Removal Act existed, and that they needed to find a way around it. In this instance, the Plaintiff's attorneys alleged that the grade of the ground near the section of the sidewalk where Ms. Murphy-Hylton fell, along with the runoff from the downspouts in the area, caused water to pool in that section of sidewalk. The water that accumulated in that section of the sidewalk froze, and that is what Ms. Murphy-Hylton's attorneys alleged she fell on. Essentially, what the attorneys alleged was that there was an unnatural accumulation, and that this unnatural accumulation was not a result of any snow or ice removal efforts of the defendant. They instead pursued Ms. Murphy-Hylton's case on a defective construction or inadequate maintenance theory, which altogether avoids the The Illinois Snow and Ice Removal Act.
Just as it was critically important for Ms. Murphy-Hylton to hire the correct attorney(s) to handle her case, it is equally important that you do as well. If you'd like to discuss your slip-and-fall case with an attorney qualified to prosecute it, please contact us. We will call you back and discuss your case with you, so that together we can decide whether or not you have a good case worth pursuing. Whether you fell in Bloomington, Normal, Peoria, Pekin, Lincoln, Decatur, Champaign, or someplace else in Central Illinois, we would love to speak with you about your case.
Terry Dodds was a great help to me in my case. He was able to get a couple charges dropped completely, and I got probation for the remaining charge. He was honest and let me know how the case was going at all times. Terry is a great lawyer and I highly recommend him!
What Type of Attorney Do You Need?
In addition to providing defense against drunk driving charges in Illinois, the attorneys at Dodds Law Office, PC, represent victims of a variety of injury accident types.