Bloomington, IL Slip and Fall Accident Lawyer
Millions of Americans get injured in slip and fall accidents each year. In fact, slip and falls are the second-leading cause of accidental deaths in the United States. Although people of every age can experience a slip and fall, older Americans are at higher risk for suffering severe injuries. Even minor injuries in a slip and fall can cause lasting injuries that place a financial burden on any family. Medical bills and time away from work during recovery puts injured victims at risk of additional hardship after an accident. If a property owner's negligence caused you to fall, a Bloomington slip and fall accident lawyer at Dodds Law Offices can help you circumvent financial distress by filing a personal injury claim.
Call a slip and fall lawyer at Dodds Law Offices, P.C. at (309) 829-9300 if you have been injured. FREE consultations.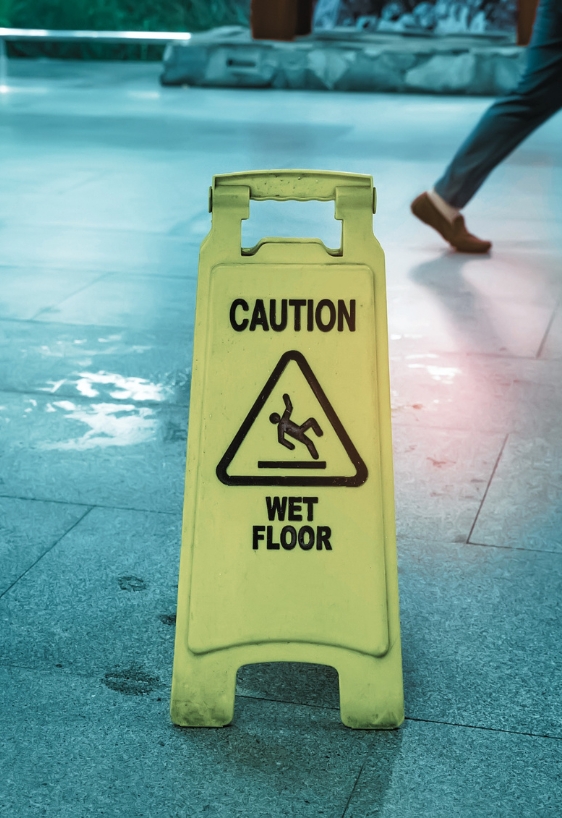 Why Choose a Bloomington Slip and Fall Lawyer at Dodds Law Offices?
As a Bloomington personal injury attorney who has been in practice for over twenty years, Terry Dodds has the experience to take on complicated slip and fall accident cases– and win.
We Care About Slip and Fall Accident Victims
Our firm takes the time to update and communicate with fall victims like you throughout the legal process, so you can focus on recovery instead of worrying about your case.
Our Firm Is Not Afraid to Go to Court
Unlike a lot of slip and fall attorneys who push clients to accept a fast settlement, we will take your case to court, compiling evidence and interviewing witnesses to prove your case to a judge or jury.
No Fees Unless You Get Compensation
We understand how overwhelming the financial burden can become after a slip and fall injury, with mounting medical bills and time away from work. We take fall cases on a contingency basis. We do not get paid unless you get compensation for your injuries. 
Why Do You Need a Slip and Fall Attorney?
Slip and fall accidents can be some of the hardest injury cases to win, as the burden falls on the plaintiff to prove the owner's negligence caused the injury. This includes proving that the property owner knew about the dangerous condition and did not warn about it, or correct the problem. In some cases, injury lawyers must call in witnesses to testify that a condition posed an unreasonable risk, like inadequate lighting, a wet floor, broken stairs, or tripping hazards, for a long enough period of time that the owner should have taken action.
The Illinois Snow and Ice Removal Act provides refuge to property owners who voluntarily undertake the task of removing natural accumulations of snow and ice on their property. This can make it harder to bring a slip and fall accident case against them if an injury occurs in a parking lot or on a sidewalk during winter.
What Are Property Owner Responsibilities in Illinois?
A property owner owes a duty of care to visitors or employees who have access to the property. If a property owner fails in his or her legal responsibility to maintain safe conditions, the owner can be held liable for any injuries that occur due to negligence. 
A property owner's duty of care in Illinois includes:
Making sure that all required safety equipment has been installed.

Maintaining safe conditions on the property through proper maintenance.

Notifying visitors of any possibly dangerous conditions.

Restricting access to unsafe parts of the property.

Providing safety training and equipment to employees.
What Are the Most Common Reasons for a Slip and Fall?
Slip and falls are a leading cause of emergency room visits and accident-related injuries across all age groups. 
The most common causes of slip and falls include:
Uneven or wet floors and walkways

Unexpected step-downs

Handrails that need repair

Poor lighting

Loose cords or wires

Improper safety training
If you are not sure if your accident qualifies for a slip and fall claim, consult injury attorney Terry Dodds to evaluate the strength of your case and guide you through the legal process.
What Damages Can Be Recovered in a Slip and Fall Accident?
After reviewing how your accident occurred, the severity of your injuries, and the sources of recovery available, fall lawyer Terry Dodds will advise you on which damages might be eligible for recovery in your case.
Economic damages are the direct costs that arise out of an accident that results in an injury. This includes medical bills and lost wages.
Non-economic damages are the intangible costs of an injury that can be included in a settlement or awarded amount. This includes emotional distress or trauma and loss of enjoyment of life.
Punitive damages might be included in the awarded amount, but they are rare. These are added to discourage the same behavior by future defendants in similar situations.
Contact an experienced slip and fall lawyer at Dodds Law Offices to recover compensation. Call (309) 829-9300.
Steps to Take After a Slip and Fall Accident
Slip and fall accidents can take place in any location. All property owners owe a duty of care to visitors. This includes any employees that may be working on the premises. The duty of care includes making sure that hazards are handled in a prompt and proper manner.
Winter months can increase the risk for falls due to inclement weather. Rain, sleet, and snow can cause slick sidewalks and parking lots that need to be cleared by owners or government entities.
If you slip and fall, you should follow these steps to help protect your fall claim:
If you experience a slip and fall, it is important to get checked out by a medical professional, even if you do not feel as if you have been injured. Lack of pain may be due to shock the body feels when an injury occurs. The longer you wait to get your injury examined, the harder it can be to prove that the slip and fall was the underlying source of the pain.
Gather Evidence at the Scene of the Accident
Inform the negligent property owner that the accident took place and request copies of any incident reports. Get the name and contact information of any witnesses. Take photos of the scene of the accident, as well any surrounding areas. Keep the clothes and shoes that you wore, as they may be needed as evidence. Document injuries and details, and include photos of the injury and medical records.
Consult Legal Representation
After a slip and fall accident occurs, you should begin to consult fall lawyers as soon as possible. A lawyer can review the accident, negotiate a settlement with the insurance company, and bring a lawsuit if necessary. Your attorney can then begin to gather any additional evidence that may need to be presented in court, such as security footage that shows the accident and any guidelines the business may have for maintenance.
Do Not Disclose Details of the Case
After an accident, it is best to only discuss the case with your attorney. Do not post any details about the accident on social media, or talk about it with friends. It is especially important not to answer any questions from the staff of the business, or the insurance company, without your attorney present. By not disclosing details or making any statements, you can avoid your words being used as an admission of responsibility for the accident during the claims process.
Do Not Accept Early Settlement Offers From the Insurance Company
The insurance company may try different tactics to avoid paying full value on a claim. Attempts may include denying claims, delaying the claims process, and low settlement offers that do not cover the victim's losses. It is best to have your fall attorney review all settlement offers prior to accepting them to make sure that all necessary compensation has been included in the amount.
Frequently Asked Questions About Slip and Fall Accident in Illinois
How long do you have to file a slip and fall lawsuit in Illinois?
In Illinois, you generally have two years to take legal action in slip and fall cases. If the accident took place on government property, the timeframe may differ. This timeframe is known as the statute of limitations, and it begins to run on the day the accident took place. Since the statute of limitations can vary, it's best to talk to an attorney right away to avoid losing your right to recover compensation.
What is the average settlement for a slip and fall case?
The severity of your injuries is a major factor in determining the final settlement amount in your slip and fall case. Your settlement is usually higher if the injury leaves you with substantial medical bills, or impacts your ability to go back to work or enjoy life. 
What are the most common injuries in a slip and fall case in Illinois?
Some of the most common injuries in a slip and fall case include sprains and broken bones from attempting to stop the fall. Injuries to the neck and back can also occur, depending on how you fall. Brain injuries are also common in dangerous fall accidents where the head makes contact with the floor.
Very pleased with the level of professionalism, good communication and the overall services provided by Mr. Terry Dodds. I definitely recommend his services to anyone needing legal assistance.
What Type of Attorney Do You Need?
In addition to helping slip and fall accident victims in Illinois, the attorneys at Dodds Law Office, PC, represent victims in a variety of personal injury cases.
For help resolving your legal matters in Bloomington, call a slip and fall lawyer with Dodds Law Office.