Semi-Truck Accidents

Attorney in Bloomington, Illinois
How Common Are Accident Cases Involving Trucks and Tractor/Trailers?
According to the Illinois Secretary of State's 2014 Illinois Crash Facts and Statistics there were 11,585 accidents involving semi-trucks or truck-tractors with semi-trailers that led to either injury or death. Of these 11,585 motor vehicles accidents 86 ended in someone losing their life. Deaths as a result tractor-trailers rose by 8.5% in 2014 compared to 2013, but the total number of accidents decreased by 10.4%.
Of the 11,585 total crashes involving tractor-trailers, 1902 of them resulted in injury. 387 of these accidents involving injury resulted in the injured person being unable to walk, drive or normally continue the activities he/she was capable of performing before the injury occurred. According to the glossary accompanying the facts and statistics report, these injuries include lacerations, broken limbs, skull or chest injuries, and abdominal injuries.
Needless to say, getting into a collision with a semi-tractor trailer can be catastrophic. Overall though, it would appear that more accidents involving injuries are attributable to passenger vehicles, including pickup trucks.
If you have been in a traumatic accident involving a semi-truck, contact us today for legal help.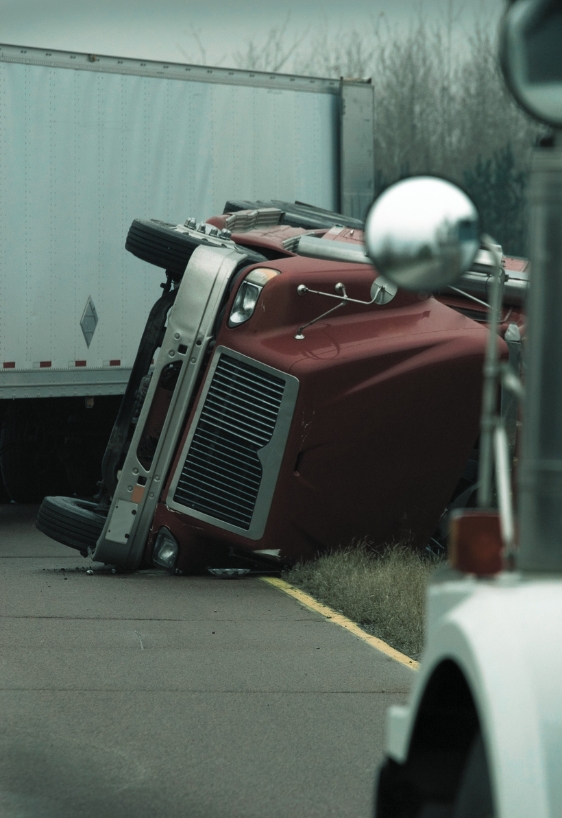 Are These Vehicles Subject to Different Regulations and Law?
Commercial motor vehicles, including semi-tractors, are regulated by the Federal Motor Carrier Safety Administration. These regulations are published in the Federal Register and can be found in the U.S. Code of Federal Regulations (CFR) in Title 49 of the CFR. Because not all of the federal regulations preempt state law, the State of Illinois has also enacted laws regulating commercial motor vehicles and their drivers.
Different regulations apply to different types of commercial drivers as well. Experienced central Illinois truck accident attorneys are familiar with the regulations that apply specifically to semi-tractor trailers and their drivers. Some of the more common regulations that personal injury attorneys ensure have been followed by the driver when an accident involves a semi-truck include the regulations dealing with logbooks (number of service hours), the record books of the employer, weight limits, 49 CFR 392.7: Equipment, inspection and use, medical examinations.
A good truck injury attorney will also request the driver's cellular history to ascertain whether or not the driver was violating the regulations that prohibit texting or operating a cellular device while driving. The lawyer may also want to obtain the service records of the semi involved, the GPS data or data from the event data recorder (EDR) or electronic control module (ECM), also known as the "black box".
Are There Any Special Requirements a Person Must Meet in Order to Drive These Vehicles?
The United States Federal Motor Carrier Safety Administration, which is responsible for ensuring unified motor carrier safety requirements and procedures in the United States, has identified certain minimum standards that the licensing entities of the states must ensure its licensed driver's meet before they can lawfully issue any Commercial Driver's Licenses (CDL's). The individual states are free to require more stringent standards if they so desire, but they must follow the minimum requirements as identified by the Federal Motor Carrier Safety Administration. These minimum requirements can be found on the FMCSA website. A state can lose federal funding should it fail to abide by the minimum requirements.
In the state of Illinois, those wishing to obtain their Commercial Driver's License (CDL) to drive a semi-trailer or other Commercial Motor Vehicle (CMV) must:
Pass the General (Core) Knowledge written test;
Pass the Combination Knowledge written test (Class A);
The Air Brake Knowledge written test (if operating a CMV with air brakes;
Successfully complete the CDL skills/drive test;
Obtain a medical examiner's certificate documenting that the applicant is physically qualified to operate a CMV;
Not be disqualified in Illinois or another jurisdiction from obtaining a CDL, meaning that the applicant has not lost his right to drive in Illinois or another state;
Meet the requirements of any special endorsements the driver might need for the type of motor vehicle the driver is seeking to drive or load he is wishing to carry;
Pay the applicable fee(s).
CDL requirements specific to the State of Illinois can be found on the Secretary of State's website.
Is an amazing attorney will work with you, he'll talk with you and help you and fight for your settlement to the Max and to the best of his ability I suggest going to him, he's very honest, and he fights to the end thank you, Terry
What Type of Attorney Do You Need?
In addition to providing defense against drunk driving charges in Illinois, the attorneys at Dodds Law Office, PC, represent victims of a variety of injury accident types.