Bloomington

Semi Truck Accident Lawyer
Commercial truck accidents can result in serious injuries and complicated legal issues. If you suffered severe injuries that were caused by a negligent truck driver or a trucking company, you need experienced semi truck accident lawyer Terry Dodds on your side.
The trucking company and their big name insurance company know all too well how tempting it may be for truck accident victims like you to accept a quick settlement offer and obtain fast financial relief. They're going to make that insurance check sound like the answer to your problems, and they are going to try to convince you that it's more than enough to pay for your medical bills and lost wages. In truth, that settlement check probably won't even be enough to cover your first round of hospital bills, let alone the financial burdens you'll be facing in the future. 
That's where Chicago truck accident lawyer Terry Dodds comes in. When you hire Terry to handle your truck accident case, our law firm will ensure your rights are protected, and that you receive fair compensation for your losses. Dodds Law Office is a full service personal injury law firm in Bloomington, IL. We take on even the most difficult personal injury cases, and win. With more than 25 years of experience, our law firm has recovered millions on behalf of injured victims.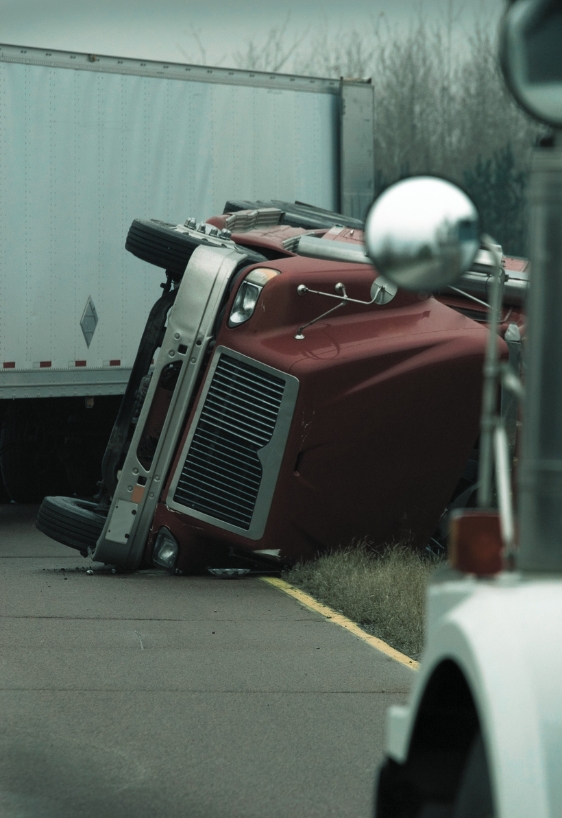 Why Hire Bloomington Truck Accident Attorney Terry Dodds?
The truck accident lawyer you hire to represent you in your personal injury case could mean the difference between recovering enough compensation to pay for your current and future medical expenses and replace your lost wages, and facing significant financial burdens down the road. To ensure you recover fair compensation for your losses, you need an experienced truck accident lawyer who is familiar with FMCSA regulations, the multiple parties who may be liable for your accident, and the impact of catastrophic truck accident injuries on victims' lives.
What sets truck accident attorney Terry Dodds apart from other personal injury lawyers in Bloomington, IL?
Experienced Truck Accident Attorney Terry Dodds Wins More for Injured Victims
Terry uses his extensive knowledge of Illinois motor vehicle accident law, industry standards, and the Federal Motor Carrier Safety Administration regulations that govern commercial trucks and trucking companies, to tip the scales of justice in your favor. His experience with commercial vehicle accidents helps him identify the details of truck crashes that a less experienced personal injury attorney might miss.
It is often these details that allow victims of semi truck accidents to sue multiple parties, or demonstrate that punitive damages should be awarded. Over the years, our law firm has recovered millions on behalf of our clients.
Truck Accident Lawyer Terry Dodds Understands How Serious Injuries May Impact Your Life
As a Bloomington truck accident attorney with over 20 years of experience representing the people of Illinois, Terry understands how severe injuries from trucking accidents can impact a victim's life and the lives of family members. He has watched victims endure substantial financial losses that threaten their ability to get medical treatment, keep the lights on, or even put food on the table. He has seen the stress, the pain, and the frustration that a truck accident often leaves in its wake.
While filing a truck accident claim won't erase the trauma his clients have experienced, Terry's goal is to help you obtain financial compensation that will make dealing with your losses a little more bearable.
At Dodds Law Office, Our Clients Are Our Top Priority
Bloomington truck accident attorney Terry Dodds puts your wellbeing, your best interests, and your financial recovery first. Unlike some truck accident lawyers in Illinois, who focus on their own bottom line and obtaining fast settlements, Terry works to ensure that his clients receive full compensation for current and future losses.
When you hire Dodds Law Office to handle your truck accident case, you will have one-on-one, direct communication with Terry, who handles all of his clients' cases himself. He will answer your questions, address your concerns, and keep you updated on the status of your accident claim or lawsuit as your truck accident case progresses.
Call Experienced truck accident lawyer Terry Dodds now at (309) 829-9300. FREE consultations.
What Laws Govern Truck Drivers in Illinois?
Commercial motor vehicles, including semi-trucks, are regulated by the Federal Motor Carrier Safety Administration. Because not all the federal regulations preempt state law, the State of Illinois has also enacted laws regulating commercial motor vehicles and their drivers. Experienced central Illinois truck accident attorneys are familiar with the regulations that apply to semi-tractor trailers and their drivers. 
Common regulations that truck drivers must follow include regulations dealing with logbooks (number of service hours), the record books of the employer, and regulations governing the securing and management of loads. Additionally, truck drivers must refrain from using cell phones while driving.
Truck drivers are required to adhere to regulations regarding their hours of service. These laws exist in an effort to prevent driver fatigue and subsequent accidents. In Illinois, the laws governing driving times impose:
A maximum of 11 consecutive driving hours in a 14-hour period. This is to be followed by 10 consecutive off-duty hours.

A maximum of 14 on-duty hours, including driving and non-driving activities, in a 24-hour period. Non-driving activities include maintenance, loading and unloading the trailer, completing paperwork, etc.

A maximum of 60 hours of on-duty time in a seven-day period, or 70 hours during in an eight-day period.
In addition to the above regulations, truck drivers must meet licensing requirements and have sufficient training.
Truck Drivers Are Required to Meet the Following Criteria
The United States Federal Motor Carrier Safety Administration, which is responsible for ensuring unified motor carrier safety requirements and procedures in the United States, has identified minimum standards that the licensing entities of the states must ensure its licensed driver's meet before they can lawfully issue any Commercial Driver's Licenses (CDL's). A state can lose federal funding should it fail to abide by the minimum requirements.
To obtain a CDL in Illinois, drivers must:
Pass the General (Core) Knowledge written test and Combination Knowledge written test (Class A), the Air Brake Knowledge written test (if operating a CMV with air brakes), and successfully complete the CDL skills/drive test.

Obtain a medical examiner's certificate documenting that the applicant is physically qualified to operate a CMV.

Not be disqualified in Illinois or another jurisdiction from obtaining a CDL, meaning that the applicant has not lost his or her right to drive in Illinois or another state.

Meet the requirements of any special endorsements the driver might need for the type of motor vehicle he or she is seeking to drive.

Pay the applicable fee(s).
For help proving a negligent truck driver violated the above regulations in Illinois, call truck accident lawyer Terry Dodds at (309) 829-9300.
Understanding Truck Accident Claims in Illinois
How Much Is Your Truck Accident Claim Worth?
The value of a truck accident claim depends on the damages you suffered in the crash. Your damage award will increase or decrease based on the severity of your injuries. This is because more severe injuries will have a greater impact on the victim's life, require more extensive medical treatment, and likely increase the amount of time needed to recover. 
Damages available in a truck accident claim fall into three primary categories:
Economic Damages:

Economic damages are tied to the financial consequences of a crash, and are typically easy to document. Economic damages include initial medical expenses, lost wages, long-term treatment costs, and costs for medical equipment or prescriptions. 

Non-Economic Damages:

Non-economic damages are harder to quantify, as they are not tied directly to the financial impact of a truck accident. Non-economic damages typically include emotional damages, such as PTSD, anxiety, or depression, pain and suffering, loss of consortium, disfigurement, and loss of enjoyment of life.

Punitive Damages:

Only awarded under circumstances involving egregiously negligent behavior, punitive damages are intended to punish the liable party and prevent further harm to future victims.
Who Is at-Fault for a Truck Accident?
The liable party in a truck accident claim depends on the circumstances that caused the crash. If the accident was due to driver negligence, such as reckless driving, speeding, distracted driving, or substance use, the truck driver may be liable for your injuries. If the accident was caused by other factors, such as inadequate maintenance, improper training, negligent hiring, or over scheduling, the trucking company may be found at-fault. 
An attorney will request the driver's cell phone history to determine whether the driver was violating the regulations that prohibit texting or operating a cellular device while driving. The lawyer may also want to obtain the service records of the semi involved, the GPS data, or data from the event data recorder (EDR) or electronic control module (ECM), also known as the "black box". This information will help your Bloomington truck accident lawyer prove you aren't at-fault for your accident. 
What Is the Statute of Limitations for Truck Accidents in Illinois?
Truck accident claims are governed by the same statute of limitations as other personal injury claims. In Illinois, truck accident victims have two years from the date of the accident to file a claim or lawsuit. There are, however, exceptions to the statute of limitations. These exceptions typically apply in cases involving incapacitated victims and minors. A semi-truck accident lawyer can help you determine how long you have to file your claim.
Get the Answers to Truck Accident Victims' Most Frequently Asked Questions
What are the common causes of truck accidents in Illinois?
Truck accidents in Illinois are commonly caused by driver negligence. Negligent driving behaviors that contribute to semi-truck crashes include intoxicated driving, fatigued driving, speeding, reckless driving, and distracted driving. 
How do I prove the truck driver was at-fault for my accident?
Your truck accident lawyer will help you gather evidence to prove you are not at-fault for your accident. Evidence in a truck accident case includes traffic camera footage, black box data, company maintenance logs, the truck driver's log book, and photos and videos of the accident scene. 
What if I'm partially at-fault for my truck accident?
You can still recover damages if you're partially at fault for your accident in Illinois. This is because Illinois follows a modified comparative negligence structure in accident cases. Victims who are less than 50% at-fault for their accident can recover damages, but their damage award will be reduced by their percent of fault.
Terry Dodds is an amazing attorney will work with you we'll talk with you and help you and fight for your settlement to the Max and to the best of his ability I suggest going to him he's very honest and he fights to the end thank you Terry.
What Type of Attorney Do You Need?
In addition to representing truck accident claims, Dodds Law Office handles a variety of case types, including: