Bloomington
Workers' Compensation

Attorney
Employees who are injured in the workplace are covered under the Illinois Workers' Compensation Act. This Act provides protections and benefits to employees who are hurt while performing job-related tasks. When a workplace accident occurs, victims can sustain serious injuries that impact their ability to work as they recover, or even for the rest of their lives.
This loss of income, coupled with extensive medical debts and ongoing treatment costs, can leave Illinois victims facing financial ruin. Bloomington workers' compensation lawyer Terry Dodds at the Dodds Law Office fights to protect the rights of injured Illinois workers. By filing a workers' comp claim, our law firm can help you recover workers' compensation benefits to prevent financial hardship.
For a legal team with an extensive background in workers' compensation law, Call a Bloomington, IL lawyer at Dodds Law Office. (309) 829-9300. FREE consultation.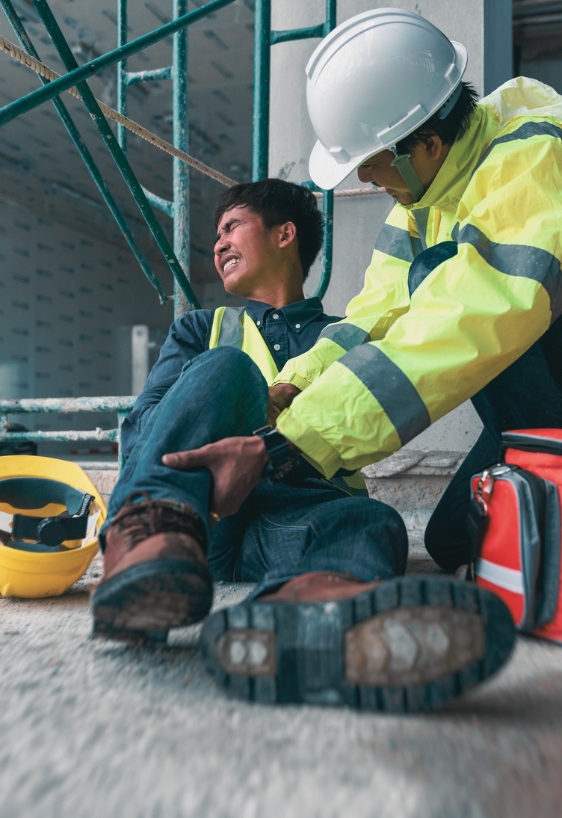 When to Hire a Workers' Compensation Attorney
If you were injured at work in Illinois, the time to hire a workers' compensation attorney is now. An experienced work injury lawyer will guide you through the workers' comp claims process to help you obtain medical treatment benefits and recover a portion of your lost wages. You should really consider hiring an experienced Illinois workers' comp lawyer if any of the following are true.
The Insurance Company Did Not Offer Proper Compensation
If the insurance company failed to offer fair compensation for your work-related injury, it's time to call a workers' compensation lawyer. A workplace injury attorney can evaluate your claim to ensure you receive fair compensation in your workers' comp claim. An insurance company will often try to lowball a victim's settlement to save money. An insufficient settlement award may fail to cover all the costs the victim incurred as a result of the workplace accident, thus placing the victim under financial hardship. Additionally, an initial settlement offer may fail to compensate for the long-term impact of a workplace injury, or for the emotional damages a victim sustained.
Your Employer Failed to Carry Workers' Compensation Insurance
Under the Illinois Workers' Compensation Act, employers are required to carry workers' comp insurance to support employees who suffer work-related injuries. The state-run workers' compensation system enforces this legal obligation to protect Illinois workers from financial hardship after an injury. The compromise to this program is that, under most circumstances, employees are prohibited from filing personal injury lawsuits against their employer for workplace accidents. Ifan employer fails to uphold their end of the bargain by carrying the proper insurance, employees are still able to recover benefits through a program collectively funded by employers in the State through a program through the Second Injury Fund.
A large portion of workers' compensation claims are denied or undervalued after the initial filing. Typically, initial denials are due to improper documentation, lack of evidence, missed filing deadlines, or clerical errors. When this happens, an experienced workers' compensation attorney can help you appeal your denial and recover fair compensation by correcting the initial errors in your claim.
You Have a Crossover Case
A third-party claim, or crossover case, applies when an employee's workplace injuries are the result, in part or in full, of a negligent party who is not his or her direct employer. In these cases, victims may qualify for recovery through a personal injury claim against the at-fault party, in addition to workers' compensation benefits. If you suffered a work-related injury in a car accident, or because of defective machinery, for instance, you may be able to recover additional compensation by filing a personal injury claim or lawsuit against a negligent driver or an equipment manufacturer.
Call a workers' compensation attorney at Dodds Law Office to start your recovery today. (309) 829-9300. FREE consultation.
How Much Is My Workers' Compensation Claim Worth?
The value of your workers' compensation claim will depend on the severity of the injuries you suffered. When calculating your settlement award, your workers' comp lawyer will consider factors such as your medical bills, lost wages, disability status, and other damages you suffered. The more serious your injuries are, the more extensive your medical treatment and recovery time will be. Severe workplace injuries will also have a more significant impact on an injured workers' life. Injuries that leave a victim temporarily or permanently disabled will qualify for additional benefits. In cases involving catastrophic injuries, disability, or amputation, a value is assigned to the affected body part, and that value influences the settlement award.
Workers' Compensation Benefits Available
Workplace accident victims have a variety of benefits available to them through the Illinois Workers' Compensation program. The specific benefits that will apply to your case are determined by the circumstances of your accident and the injuries you sustained. Generally, employees who are injured at work may have access to the following benefits:
Lost Wages
When employees are forced to miss work to recover from a workplace accident, they are entitled to compensation to replace the wages they lost.
Medical Expenses
Any medical expenses associated with the workplace accident, whether for initial care, follow-up care, long-term treatment, or equipment/prescriptions, are recoverable through a workers' comp claim.
Emotional Damages
When workplace accidents cause a victim to suffer from emotional trauma, he or she can recover non-economic damages for a calculated value associated with the emotional injury. Emotional injuries may include PTSD, depression, anxiety, pain and suffering, loss of enjoyment of life, and loss of consortium.
Permanent Disability Benefits
If a workplace injury is disabling, victims can recover partial or total permanent disability benefits. These benefits apply to individuals who are permanently unable to return to work in their previous capacity. Whether an individual qualifies for total or partial benefits will be determined by his or her level of disability.
Temporary Disability Benefits
Victims can also recover temporary total or partial disability benefits. These benefits are similar to permanent disability benefits, but instead apply when victims will eventually return to their previous working capacity.
Contact Bloomington workers' compensation lawyer Terry Dodds for help with your work injury claim. (309) 829-9300. 
What to Do After a Workplace Injury
A victim's first priority after a workplace injury should be his or her health and medical recovery. Workplace accidents can leave victims with lifelong symptoms and disabilities. Taking the right steps during recovery and working with a workers' compensation doctor can help victims attain the best possible outcome for their health.
 Once an injured worker has obtained proper medical care, his or her next priority should be seeking compensation through the workers' compensation program. This program exists to make injured victims as close to whole as possible after a workplace accident occurs. Without workers' compensation benefits, many injured workers would face financial hardship after an accident.
Taking the following steps after a workplace accident can help victims support the best possible outcome for their financial and medical recovery.
Get Medical Treatment After a Workplace Accident
Seeking medical treatment immediately after a workplace accident improves a victim's chances of healing and also helps to document injuries from the start. Injury documentation is crucial when filing a workers' compensation claim. Copies of medical bills, photographs, physician reports, and an injury diary can help workers' compensation attorneys prove your injuries to an insurance company.
Report Your Workplace Injury to Your Employer
Victims of workplace accidents are required to report their injuries to their employer within 45 days, orally or in writing. Often, employers will have you do this by filing a workplace accident report. Though you have 45 days to report the injury, reporting sooner will help improve your chances of a favorable recovery. Over time, evidence of the accident can deteriorate, and delaying filing your claim puts you at risk of missing important deadlines.
Start Your Workers' Compensation Claim
Once you've reported your injury and started your recovery, it is time to file a workers' compensation claim. Victims generally have three years from the date of the accident or injury discovery to file a claim, or two years after the receipt of the last workers' comp payment (whichever is later). Some workplace diseases, however, have special filing deadlines.
Follow through with Your Medical Treatment Plan
Victims should follow through with all treatment recommendations made by their medical provider. This not only helps a victim's body heal, but also proves the legitimacy of a workplace injury claim. Failure to follow through with medical treatment, or returning to work too early, can impact your financial recovery.
Contact Workers' Compensation Attorneys for Help with Workers' Compensation Claim Denials
If your workers' comp claim is denied, a worker's compensation attorney can help you seek an appeal. An appeal needs to be filed with the Illinois Workers' Compensation Commission within 30 days of your denial. A workers' comp lawyer can help you adhere to appeal deadlines, file the proper paperwork, and explain your case to the courts.
Get the Answers to Frequently Asked Questions from Workers' Compensation Lawyers in Bloomington
Are Most Workers' Comp Cases Totally Closed Following a Settlement Agreement?
The greater majority of workers' compensation cases are closed once a settlement is reached. Medical is not left open in a larger majority of the cases. Only in those cases where someone is gravely debilitated and needs care around the clock, or is expected to have future surgeries, is medical going to be left open.
What Happens if Someone's Condition Worsens After the Settlement Is Reached and The Case Is Closed?
Unless there is a specific provision that would make the insurer or the employer liable for any additional surgeries that may be required, once the case is settled, it's settled. There's no turning back unless medical is left open. There's no going back to get additional funds from the employer or the insurer.
How Important Is It to Receive the Required Medical Attention?
In Illinois Workers' Comp cases, it's incredibly important that the employee or the claimant follow every recommendation of their treating physician. If the employee or the claimant fails to follow those recommendations, they risk the employer stopping benefits. They also risk their claim becoming worth a lot less because they did not do everything they could to ensure that they were going to reach maximum medical improvement.
For example, with physical therapy, it's incredibly important that the employee does not miss any appointments and is trying to do their very best during those treatment sessions. It's also important for the employee that they stay within the chain of referrals. In most instances in Illinois, the Illinois worker is only entitled to two different medical professionals that are not in the chain of referral.
With a serious injury where different body parts are injured, the employee might be required to see different types of doctors. For example, the Illinois Worker might be required to see an orthopedic doctor, a gastrointestinal doctor, a spine doctor, or a neurosurgeon. If someone's severely injured and has been required to see a lot of different specialists, the victim is going to have to get a referral from his or her primary care physician to see those specialists. If the injured worker doesn't stay within that chain of referral, then the employer will not be obligated to pay those medical bills.
I highly recommend Dodds Law Office to anyone that needs help with a case.
Terry fought for me for the last two years on my workmen's compensation case. Terry will be my to go to guy if I have anything come up in the future. Couldn't ask for a better attorney to fight for you.
Thanks again Terry, you are the best.!!
What Type of Attorney Do You Need?
Our Bloomington law firm represents victims of a variety of injury accident types. In addition, we handle criminal defense cases.
Learn More About Illinois Workers' Compensation Claims
What to Do If Workers' Compensation Denies Your Claim
Illinois workers' compensation laws allow injured employees to seek benefits, including medical expenses, lost wages, and disability benefits, through a claim. However, not all workers' comp claims are approved. In the event that your claim is denied, benefits suspended or terminated, you may be eligible to file an appeal.
Employer Discontinued Worker's Compensation After Termination
During oral arguments held at its March 2009 docket, the Illinois Supreme Court was asked to decide whether or not an Illinois employer, with an employee with a workers' compensation claim, who is entitled to Temporary Total Disability (TTD) benefits pursuant to the Illinois Workers' Compensation Act...