Bloomington

Car Accident Attorney
If you suffered severe injuries in a car accident in Bloomington, IL, you may be entitled to substantial compensation from the at-fault party's insurance company. Since insurance companies rarely offer fair compensation in motor vehicle accident claims, however, and the statute of limitations limits the amount of time you have to take legal action, you'll need to consult with a car accident lawyer sooner rather than later.
Experienced Bloomington car accident attorney Terry Dodds understands that motor vehicle accident injuries have the potential to change the course of victims' lives forever. While our law firm cannot erase the pain, suffering, and emotional trauma you've been through, we can help you pursue compensation that can make getting through this difficult time just a little easier.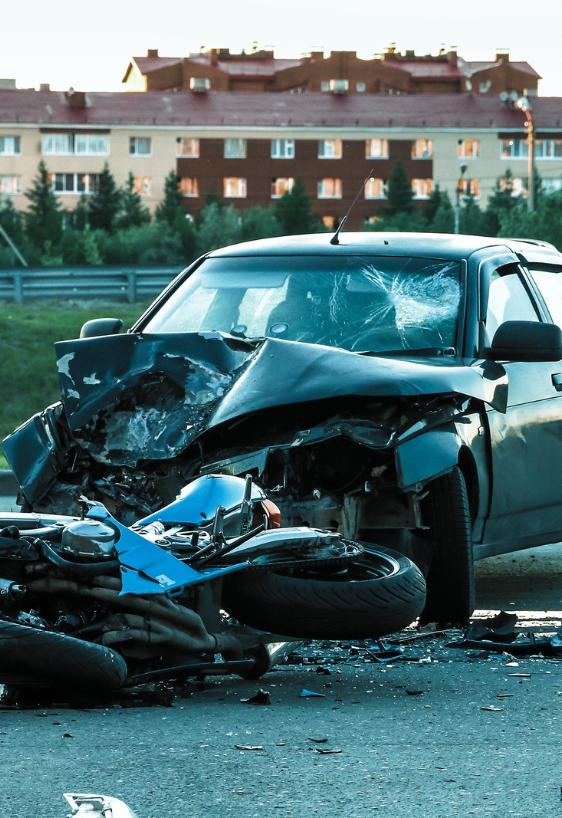 Why Hire Bloomington Car Accident Lawyer Terry Dodds?
The car accident lawyer you choose to handle your claim will play a significant role in the outcome of your case. Unfortunately, car accident attorneys in Illinois are not all equal in their ability to help you recover a fair settlement or jury award. Without the right attorney on your side, you're less likely to get the compensation you need to pay for your medical bills, let alone your lost wages, or pain and suffering.
What sets personal injury attorney Terry Dodds apart from other car accident lawyers in Bloomington, IL?
Experienced Personal Injury Lawyer Terry Dodds Wins More for Car Crash Victims
Receiving a fair settlement after a crash is about more than simply filing an injury claim with the insurance provider and waiting for your check to arrive. In fact, car insurance adjusters are notorious for minimizing losses, placing blame on injured victims, and even denying insurance coverage for valid claims, especially when they realize claimants don't have legal representation.
When you hire Bloomington car accident lawyer Terry Dodds to handle your personal injury case, he will deal with the insurance company for you, demanding full payout for your losses. Our legal team will work with accident investigators, reconstruction specialists, and other experts to uncover details that other car accident lawyers might miss, optimizing your recovery. Over the years, Terry has recovered millions on behalf of car accident victims like you.
Terry Dodds Is an Experienced Car Accident Lawyer
Not all personal injury attorneys are experienced with motor vehicle accidents. Some lawyers focus their legal careers on other types of injury law, like workers' compensation, instead, so they may not be familiar with investigating crash scenes or working with accident reconstruction specialists. Even worse, many injury attorneys are quick to push their clients to settle with the insurance company instead of looking out for their best interests, investigating what happened, and pursuing full and fair compensation for victims.
As a Bloomington car accident lawyer with over 20 years of experience representing victims of auto accidents in Illinois, Terry knows what to look for at an accident scene. He understands how severe injuries can impact a victim's life, and the financial losses his clients will likely endure. Most of all, Terry knows it takes to win your case.
At Dodds Law Office, Our Clients Are Our #1 Priority
When you hire Bloomington car accident lawyer Terry Dodds, your wellbeing, your best interests, and your recovery are priority. You will have one-on-one, direct communication with Terry, who handles all of his clients' cases himself. He will answer your questions, address your concerns, and keep you updated on the status of your accident claim or lawsuit as your case progresses.
Terry will take the time to sit down with you and listen to your story. He wants to hear about how your car crash injuries impact your ability to work, spend time doing the things you enjoy, or live your life to the fullest. Understanding the position your car wreck put you in helps Dodds Law Office ensure that you receive full compensation for your current and future losses.
Terry Dodds is Not Afraid to Take Your Case to Court
Car accident lawyer Terry Dodds will not back down to the insurance company or their attorneys. He will do his best to negotiate with the insurance provider and help you obtain a fair settlement outside of court, but he won't give in if negotiations with the insurance company are not successful.
Call car accident lawyer Terry Dodds now at (309) 829-9300, and let's get started with your recovery. No upfront attorney fees. Free consultation.
Do You Really Need to Hire a Personal Injury Lawyer for Your Car Accident Claim?
The full impact of your auto accident may not be apparent right away. The insurance company will take advantage of that when they approach you with their initial settlement offer. They're going to make that offer sound appealing. They're going to tell you that you don't need a car accident lawyer. The insurance adjuster may even promise to cut you a check right away. The insurer is going to pressure you into signing on the dotted line.
Before you sign away your right to recover fair compensation for your losses, however, you need to consider the big picture.
The combination of physical, emotional, and financial hardships that accompany a car wreck are often more than victims and their families can bear. The severe injuries that are caused by car accidents are often life-changing, and those medical costs you're facing right now are only going to increase. Auto accident injuries can leave victims like you in excruciating physical pain that never goes away. Many car accidents leave emotional trauma like PTSD and disabling anxiety in their wake, making it difficult or even impossible for victims like you to return to work, drive or ride in a car, or even take care of themselves on their own.
When you consider the true impact of your accident, and you consult with an experienced attorney who can estimate the value of your claim, that settlement offer probably won't sound so appealing after all.
How Will Car Accident Lawyer Terry Dodds Help You Recover?
Terry understands how much is at stake after a car crash. Taking legal action can make a world of difference in your ability to pay for your medical care and replace your lost wages. In fact, getting a car accident settlement could likely be the boost you need to get back on your feet physically and emotionally – not just financially. To ensure your legal rights are protected, the at-fault driver is held accountable, and you have the opportunity to heal, Terry will:
Investigate the circumstances that caused your auto accident 

Work with investigators and experts to determine fault and the value of your injury case

Help you evaluate the insurance company's offer to make sure your losses are fully covered

Identify and counter attempts by the insurance company to misplace blame for your auto accident, or minimize your injuries

Negotiate with the insurance company to optimize your financial recovery

Battle the insurance company that their team of attorneys in court on your behalf
What Are Common Causes of Car Accidents in Bloomington, IL
Most car accidents in Bloomington, IL are preventable. They often happen when one or more drivers breaches the duty of care that is owed to other people. In fact, driver negligence or recklessness is the leading factor in motor vehicle accidents across the state. The most common causes of car accidents that cause serious or fatal injuries include:
Drunk driving

Drowsy driving

Distracted driving

Reckless driving
What Damages Are Available in a Car Accident Lawsuit?
Three types of damages may be available in your Bloomington auto accident case. 
Economic Damages (Special Damages)
The economic damages that may be available in your injury case include financial losses like medical expenses, medical equipment costs, and lost wages. Your car accident lawyer will look at your health insurance statements, receipts for the medical payments you've made from your own pocket, medical bills you have received, and estimated future medical care costs, along with wage statements and other documentation to determine your economic losses.
Non-Economic Damages (General Damages)
Non-economic damages in your injury case are subjective, and not tied to a monetary amount. They include things like physical pain, emotional suffering, cognitive disability, disfigurement, physical disability, and the inability to enjoy your normal life as it was before your auto accident. Your car accident lawyer will use your medical records and statements from your healthcare team, medical expert testimony, and your own account of your pain and suffering to convince the jury to award you non-economic damages.
Although punitive damages are rare in auto accident cases in Bloomington, IL, they may be awarded if your car accident attorney can prove that the at-fault party acted intentionally or the behavior that cause your crash was especially egregious. If aggressive driving caused your accident, for instance, or the other driver was driving while impaired, punitive damages may apply. When they are awarded in auto accident cases, punitive damages are often substantial.
Get Auto Accident Claims Advice from Our
Bloomington Car Accident Lawyer
It's natural to have a lot of questions and concerns after a motor vehicle accident in Illinois. Car accident lawyer Terry Dodds offers free consultations to help victims like you understand what to do after a car wreck, and what to expect as your case progresses. In the meantime, Terry offers the following advice to help ensure your rights remain protected, and your financial recovery is optimized.
Get Medical Attention After a Car Crash
Getting checked out by a doctor after a crash could save your life. Even if you don't think you suffered serious bodily injury in the crash, get evaluated by a medical professional right away. Some conditions, like traumatic brain injuries or internal bleeding, may not show symptoms immediately after an accident, but they continue to worsen as medical care is delayed.
Avoid Talking to the Insurance Company
The insurance company will try to contact you soon after your accident. Don't answer any questions from their representatives, even if they seem innocent. If they ask how you are doing, for instance, simply refer them to your lawyer. If you don't have a car accident lawyer yet, get one. Until then, just don't deal with the insurer.
They say the early bird gets the worm, but the second mouse gets the cheese. This theory especially applies in accident claims, where initial settlement offers are almost always inadequate. Be prepared for the insurer to pressure you to accept their settlement offer before you've had a chance to realize the impact of your injuries. They do this to protect their own bottom line. Hire car accident lawyer Terry Dodds to protect yours.
Avoid Posting on Social Media
Forget about Facebook. Ignore Instagram. Stay away from Snap Chat. Avoid making TikTok videos. Don't post pictures. Don't comment about upcoming activities. Don't talk about how you are doing. The insurance company may hire investigators to stalk your social media accounts. They will use anything they can find to minimize your injuries and reduce the payout on your claim.
Hire an Experienced Attorney to Estimate the Value of Your Claim
Although no attorney can promise how much you will receive for your accident injuries, an experienced personal injury lawyer can provide you with a fairly accurate estimate of how much you can expect to receive in a lawsuit.
Get the Answers to Frequently Asked Questions About Car Accidents in Bloomington, IL
Although no attorney can promise how much you will receive for your accident injuries, an experienced personal injury lawyer can provide you with a fairly accurate estimate of how much you can expect to receive in a lawsuit.
What if the at-fault driver is uninsured or underinsured?
If the at-fault party was not insured, or did not carry enough insurance to cover your losses, there are still other avenues your car accident lawyer can take to help you get your medical costs paid. We may be able to file a claim against your underinsured or uninsured motorist policy. Maybe your health insurance or MedPay insurance will help pay for your medical care. We might even be able to file a personal injury claim against additional parties who contributed to your crash, like a vehicle manufacturer or another driver.
What if the other party left the scene of the crash?
If you were injured in a hit-and-run crash, our legal team will work with law enforcement to try to help you find that driver. In the meantime, we will help you file an uninsured motorist claim against your own coverage. We will also look for additional sources of recovery as well. Did your seatbelt work? Did your airbags deploy? Did your brakes work correctly? Was the stoplight working?
How Long do I have to file a car accident lawsuit?
In Illinois, you generally have just two years to file a lawsuit after an auto accident. The clock began ticking on your lawsuit the day the crash occurred. The insurance company is probably going to try to delay processing your claim to get you to miss the filing deadline. If time runs out before you file a lawsuit, you will lose your right to recover compensation.
Can I still recover compensation if I'm partially at fault for my crash?
You still have a legal claim for compensation if your role in causing the crash was 50% or less. If your claim is successful, your award will be reduced in accordance with your portion of fault. For instance, let's say your case is worth $100,000, and you were determined to have been 20% at fault for the crash. Your award will be reduced by 20% (or $20,000), and you will recover $80,000.
Terry Dodds was a great help to me in my case. He was able to get a couple charges dropped completely, and I got probation for the remaining charge. He was honest and let me know how the case was going at all times. Terry is a great lawyer and I highly recommend him!
What Type of Accident Attorney Do You Need?
At Dodds Law Office, we handle cases that arise from various types of situations.