Nursing Home Abuse Attorney in Bloomington, Illinois
When families make the difficult decision to move a loved one into a Bloomington nursing home, they generally do so with the belief and promise that their family members will receive the support and assistance they need. Unfortunately, abuse of nursing home residents occurs all too often in the approximately 1,200 long-term care facilities across the state. If you or a loved one suffered harm due to elder mistreatment in an assisted-living facility, a nursing home abuse attorney at Dodds Law Offices, PC, can help. Our law firm will investigate the abuse or neglect, help you file a personal injury or wrongful death lawsuit, and make sure the at-fault party is held accountable.
If nursing home staff violated your loved one's rights and caused him or her harm, call Illinois nursing home abuse attorney Terry Dodds at (309) 829-9300. FREE consultation.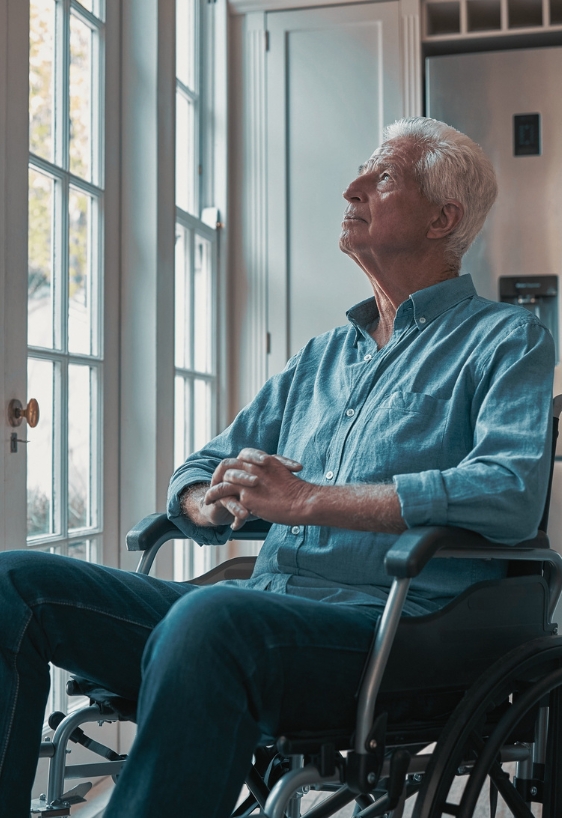 Legal Protections for Nursing Home Residents
The Right To Be Treated With Respect
State and federal laws provide that residents living in nursing homes have the right to be treated with respect, which includes receiving the care they need without harassment or mistreatment.
The Right To Be Free of Abuse and Neglect
Under the state and federal protections afforded to them, nursing home residents should reasonably expect not to suffer harm at the hands of facility staff, and to have their basic needs met.
The Right To Receive Adequate and Appropriate Medical Care
People commonly live in assisted-care facilities because they have medical needs they and their families cannot manage at home. Nursing homes have an obligation to ensure they meet these needs, and do not refuse medical treatment when a nursing home resident is in need.
The Right to Make Complaints
If mistreatment occurs, state and federal laws provide paths for residents or their family members to make reports. Additionally, these laws include protections against reprisal by nursing homes or staff for reports of alleged mistreatment.
Why Do You Need to Hire a Bloomington Nursing Home Abuse Attorney?
If you suspect abuse or neglect in a skilled nursing facility in Bloomington, hiring an experienced nursing home abuse attorney is crucial. Many elderly residents do not tell even those closest to them that they have suffered abuse or neglect. Some may lack the capacity to say something, while others stay quiet out of shame or fear of worsened treatment.
A lawyer will help protect the rights of your loved one and seek justice for the harm he or she has suffered. Your attorney will help you navigate the legal system, gather evidence, and fight for fair compensation. By obtaining legal representation, you are taking a proactive step towards holding those responsible for the abuse or neglect accountable and ensuring a safer environment for all nursing home residents.
Spotting Signs of Nursing Home Abuse
As a family member, it is important to keep an eye out for the signs that your loved one is not receiving the treatment and care he or she deserves. Spotting the signs of nursing home abuse and neglect is vital in stopping such mistreatment and ensuring the ongoing safety of long-term care facility residents. Some signs that you should watch for include:
Unexplained bruises, cuts, scars, or other injuries 

The development of preventable conditions, such as bed sores

Unusual or unexplained depression, confusion, or withdrawal

Isolation from family or friends

Unmet basic needs, including personal hygiene, nutrition, and hydration

Unmet medical needs, such as over- or under-medicating, or otherwise not providing appropriate care for nursing home residents' medical problems
What You Should Know About
Nursing Home Abuse and Neglect
Locally and nationally, the population of older adults is climbing. By 2034, it is expected that there will be more adults 65 and over in the U.S. than children. The growing population of people needing care in skilled nursing facilities has further taxed an already struggling industry. Overworked and under-supported facility staff caring for residents may increase the risk of abuse or neglect, which can lead to serious injuries or death.
In the past year, at least one out of every 10 elderly residents in community settings experienced some form of abuse. Often occurring at the hands of nursing home staff members entrusted to care for them, abuse and neglect can take many forms, including physical, emotional, sexual, and financial.
Perhaps the most commonly thought of type of elder mistreatment, physical abuse refers to the reckless, negligent, or intentional infliction of pain or harm. Examples of such mistreatment include various forms of physical contact, such as hitting, pushing, or kicking. The inappropriate use of physical or chemical restraints is also considered physical abuse. Assisted living residents may suffer physical injuries, emotional effects, or death due to physical mistreatment.
Emotional, or psychological, abuse is defined as verbal and nonverbal acts used to cause anguish, distress, and pain. According to the National Center on Elder Abuse, emotional abuse of residents is the most common type of mistreatment in assisted-living facilities. Mental abuse may include threatening, insulting, humiliating, harassing, or intimidating residents. For example, making fun of a resident because he or she made a mistake, falsely telling residents their family members do not want to see them, or threatening physical harm may constitute emotional abuse.
Sexual abuse involves any type of non-consensual sexual contact, including sexual assault. In addition to unwanted touching or other acts, sexual abuse includes showing residents sexually-explicit images or videos, making inappropriate sexual communications, and unwanted sexual advances. The facility may be liable if nursing home staff members, other residents, or visitors commit such acts, and the facility did not have appropriate measures in place to ensure the safety of their residents.
Financial abuse is another type of elder mistreatment that commonly occurs in area nursing homes. It involves staff or the facility taking or misusing residents' money or property for their own benefit, or that of another or the facility. For instance, borrowing money and not repaying it, overcharging for services, taking money without permission, or not performing the services they were paid to do may constitute this type of mistreatment.
Assisted-living facilities in Bloomington and throughout the state have an obligation to provide for residents' basic needs. Nursing home neglect occurs when staff and facilities do not meet these needs. For example, staff may purposely or unintentionally fail to provide residents with adequate hydration and nutrition, or provide the necessary aid with personal hygiene, use of the restroom, and positioning. Making medication errors or otherwise refusing medical care for residents may also qualify as nursing home neglect.
Contact our Bloomington nursing home neglect attorneys at Dodds Law Offices, PC, to get started on your path to recovery. Call (309) 829-9300.
Get the Answers to Nursing Home Neglect and Abuse Victims' Most Frequently Asked Questions
What should I do if I suspect a loved one suffered nursing home abuse?
If your loved one is in immediate danger or needs medical assistance right away, you should call 911. To report non-emergent abuse, you may submit a formal report to your regional ombudsman, the Illinois Department of Public Health, the Illinois State Police Medical Fraud Unit, the Senior Help Line, or the hotline for Healthcare and Family Services for Supportive Living Facility Complaints. The various entities for reporting such abuse will conduct investigations and take action based on the results and their agency or organization abilities.
What damages can you recover in a nursing home abuse lawsuit?
Nursing home abuse victims can recover compensation for their associated economic and non-economic losses through a personal injury lawsuit. Recoverable economic losses in such cases include: medical bills, medication costs, lifestyle or living accommodation modifications, and other out-of-pocket expenses. Non-economic losses include less tangible costs, including pain and suffering, loss of enjoyment of life, and loss of consortium. Illinois does not cap damages in nursing home abuse cases.
Who is liable for nursing home abuse injuries?
You may seek to hold the assisted-living facility financially responsible for your loved one's abuse-associated losses. Under the Illinois Nursing Home Care Act, facility owners and licensees bear liability for the intentional or negligent acts and omissions committed by the nursing home staff. 
How Long do I have to file a nursing home abuse lawsuit in Illinois?
The clock starts ticking on your nursing home abuse lawsuit the day your loved one was injured, or should reasonably have known about the injury. Generally, the Illinois statute of limitations for such cases is two years. While you may have up to two years to initiate legal action, it is in your family member's best interests not to wait to contact a Bloomington nursing home abuse lawyer to discuss your rights and options.
Do I need a nursing home abuse lawyer to help with my loved one's case?
You don't have to have a personal injury attorney on your side when pursuing a nursing home abuse or neglect lawsuit, however, it helps. An attorney who is familiar with the state's elder and assisted-living facility laws and regulations can walk you through the processes of filing a formal complaint and seeking the maximum compensation for your loved one's losses.
Very pleased with the level of professionalism, good communication and the overall services provided by Mr Terry Dodds. I definitely recommend his services to anyone needing legal assistance.
What Type of Personal Injury Attorney Do You Need?
In addition to representing nursing home residents and their families, our team at Dodds Law Offices, PC, provides dedicated assistance to those facing other accident- and negligence-related injuries.


For help resolving your legal matters in Bloomington, call a nursing home abuse lawyer with Dodds Law Office.
Learn More About Nursing Home Abuse
Important Points of a Personal Injury Case
Waiting too long or seeking treatment too late can result in the insurer not agreeing to pay medical bills. Delaying treatment can result in making the plaintiff less believable as it relates to their pain or their injury complaints.