Permanent Disability

Attorney in Bloomington, Illinois
Workplace injuries happen. In fact, approximately 200,000 occur every year in Illinois. In some cases, the injured employee may not even miss a day of work. In other cases, they may be unable to ever work again. Their injuries could cause permanent partial or devastating permanent total disabilities.
 The Illinois Workers' Compensation Act requires most employers to carry no-fault insurance coverage for the benefit of their workers. Unlike a personal injury claim where an injury victim must prove negligence, employees injured while on the job are not required to prove that the employer did anything wrong. However, there is a claims process the employee must undertake to secure any compensation through a workers' compensation claim.
 If you have suffered a permanent disability as a result of a work injury, it is likely that you will need to hire an Illinois Work Comp attorney in order to secure the maximum possible benefit possible for your work-related claim. Even then, it isn't always easy. Workers' compensation is insurance, and insurance companies want to avoid paying claims. It's natural to feel overwhelmed in the face of a workplace injury.
 At Dodds Law Office, PC, I represent employees injured on the job in Bloomington, Champaign, Decatur, Lincoln, Pekin, Peoria, Urbana, and the rest of Illinois. I know how much these workers' compensation claims mean to my clients, and I will do everything I can to achieve the very best outcome possible for you–my Reviews are also proof that I deliver results. Reach out to me to set up a one-on-one consultation.
"I enjoy helping my clients look to a brighter future".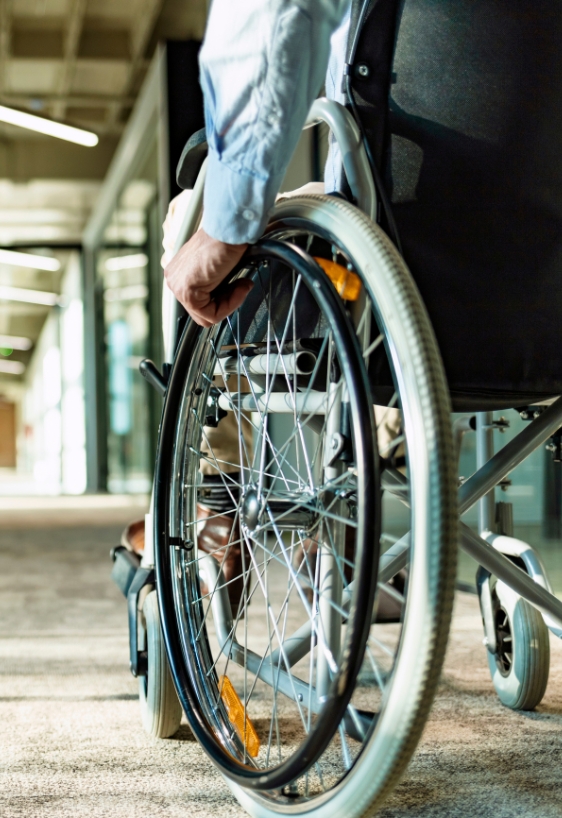 What Is a Permanent Disability in Illinois?
The Illinois Workers' Compensation Act defines two types of permanent disability: permanent partial disability and permanent total disability. Both designations garner compensation for a loss of earning capacity.
 If you are impaired or disfigured by your work-related injury but can still work at least in some capacity, you suffered a permanent partial disability. If your impairment renders you unable to work, it is a permanent total disability.
 An example of a permanent partial disability would be a back injury that now permanently limits the amount of weight you are able lift. For instance, if a requirement of your job is that you be able to lift in excess of 50 pounds, but your disability now renders you unable to do so, you are able to still work, but your impairment now prohibits you from working in your previous employment capacity; you have also now lost certain employment opportunities previously available to you.
 If the workplace accident severed your spinal cord and left you paralyzed from the waist down, that would be classified as a permanent total injury.
How Is a Permanent Disability Determined?
Both permanent partial and permanent total disability are determined once the physician treating you determines you have recovered to the greatest extent possible, referred to as reaching "maximum medical improvement" (MMI). This doesn't mean you can do all the things you could do before you were injured. It simply means you are as good as you're going to get. Once you have reached MMI, your injury will be classified as permanent partial, or permanent total.
 Permanent disability requires the loss of either a complete or partial use of the body, such as back injury limitations, complete or partial loss of a part of the body, or partial use of the body as a whole.
 Not all serious injuries, such as undergoing the amputation of a leg, are considered permanent total disabilities in and of themselves. However, suffering the loss or use of two body parts, such as both legs or one arm and one eye, most likely will be considered a permanent total disability.
 Determining which type of permanent disability you have suffered relies on an ability rating system used in Illinois workers' compensation claims. If you are determined to be less than 100% unable to work, you will receive a permanent partial rating. If you are 100% unable to work, you will receive a permanent total disability rating.
Who Is Eligible for Permanent Disability Benefits?
Any worker injured at work while in the agency and scope of an employer required to carry workers' compensation insurance, who suffers injuries that achieve the disability rating of either permanent partial or permanent total disability, is eligible to receive benefits under the employer's insurance coverage.
How Much Compensation Can I Recover?
There is a maximum recovery for permanent disability determinations under Illinois workers' compensation law. The compensation formula incorporates the disability rating and your current average weekly wage.
 The current maximum weekly compensation for a permanent total disability or a permanent partial disability due to amputation or loss of an eye is $1,792.73 and the minimum is $672.28. If the injury is a permanent partial injury not related to amputation or loss of an eye, the maximum is $937.11 and the minimum is $672.28. Where you would fall in that range depends on the average weekly wage you were earning at the time of the accident. Moreover, you may qualify for cost-of-living increases while receiving compensation.
Permanent Disability Attorney Serving Bloomington, Illinois
You might think that if you suffer a permanent partial or permanent total disability in a workplace accident, you will not need to fight for compensation. However, receiving compensation in Illinois is not as easy as it might seem. Contact a workers' compensation attorney as soon as possible. At Dodds Law Office, PC, in Bloomington, Illinois, I know that after these types of workplace injuries, it's important to have someone in your corner. Begin by calling my office to schedule a free case consultation.
Is an amazing attorney will work with you, he'll talk with you and help you and fight for your settlement to the Max and to the best of his ability I suggest going to him, he's very honest, and he fights to the end thank you, Terry
What Type of Attorney Do You Need?
In addition to providing defense against drunk driving charges in Illinois, the attorneys at Dodds Law Office, PC, represent victims of a variety of injury accident types.