Bloomington

Personal Injury Lawyer
Tip the Scales of Justice in Your Favor
Will help you recover compensation in your
When you suffer serious injuries because of someone else's negligence or reckless behavior, you have the right to receive fair compensation from the at-fault party who caused you harm. Unfortunately, getting the insurance company to pay out a fair settlement isn't as easy as it sounds. Without an experienced personal injury attorney on your side, you'll struggle to recover enough compensation to pay for your medical bills, let alone your lost wages and pain and suffering.
That's where
Bloomington

Personal Injury Attorney Terry W. Dodds Comes In
With over 20 years of experience obtaining successful outcomes in personal injury cases in Illinois, Terry has earned a reputation for providing top-notch legal services to Bloomington residents. Our law firm has recovered millions in settlements and verdicts for our clients.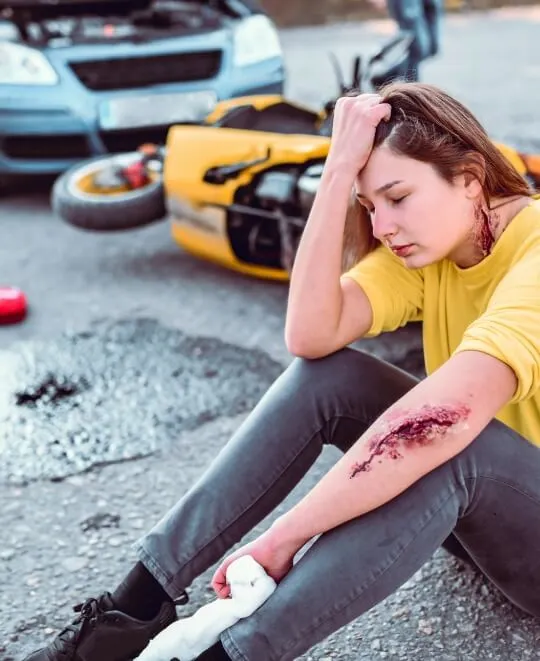 How Can Personal Injury Lawyer Terry Dodds
Help You Recover?
People and businesses in Illinois owe a duty of care to act reasonably to prevent causing harm to others. When another person or company breaches this duty of care and someone gets hurt, injury victims can file a personal injury claim to hold the at-fault party liable.

If you're the injured party, and the insurance company or large corporation fails to offer you a fair settlement, you and your family members are left to foot the bill.
You're forced to pay the price for serious injuries that prevent you from working
You'll be left to face mountains of medical bills for hospital stays, medical equipment, surgeries, ongoing medical treatment, and other medical expenses
The at-fault party won't be held accountable for the pain and suffering you've endured because of the accident
You shouldn't have to pay for someone else's negligence. Fortunately, you have an opportunity for recourse.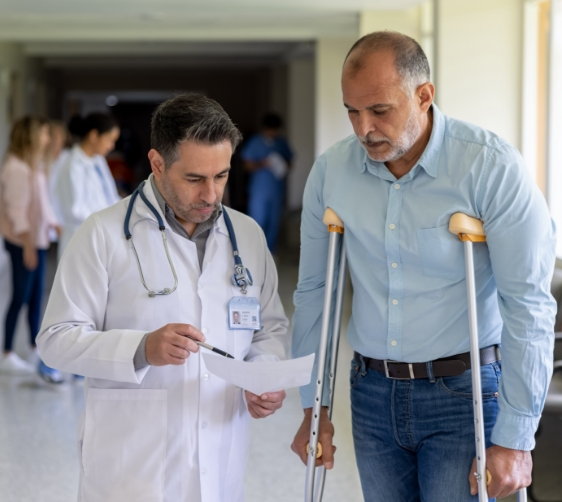 Dodds Law Office Can Help You File a Personal Injury Lawsuit
If you were injured by someone else, and the insurance company or other liable party is refusing to pay for your losses, you can file a personal injury lawsuit to recover compensation for your medical bills, lost wages, physical pain, and emotional trauma.
Don't attempt to handle your personal injury case on your own, however. It might seem like the easiest way to put this unfortunate incident behind you, but small mistakes in your case could lead to an even smaller recovery and significant problems down the road.
Experienced personal injury attorney Terry Dodds can have a significant impact on the outcome of your case. In fact, our law firm may be able to help you recover up to three times more than if you handle your personal injury lawsuit on your own. Why?
Gather Evidence to Prove Liability for Your Injuries
When you hire personal injury lawyer Terry Dodds to handle your case, our legal team will work to uncover evidence that other Bloomington personal injury lawyers often miss. It is in these small details that complicated personal injury cases are won. We'll work with accident investigators to determine how your accident happened. Then we'll identify the parties who may have contributed to causing your injuries.
Calculate the Available Damages for Your Claim
If the other side offers a settlement agreement, and you accept it without carefully thinking through the consequences, then you run the risk of not having the financial support you need to recover from your injuries. Working with personal injury attorneys helps ensure that you recover fair compensation for your losses. Although personal injury lawyers in Bloomington, IL cannot guarantee how much injury victims will receive, experienced personal injury attorneys can evaluate your economic and non-economic damages to provide you with an estimate of what your case is worth.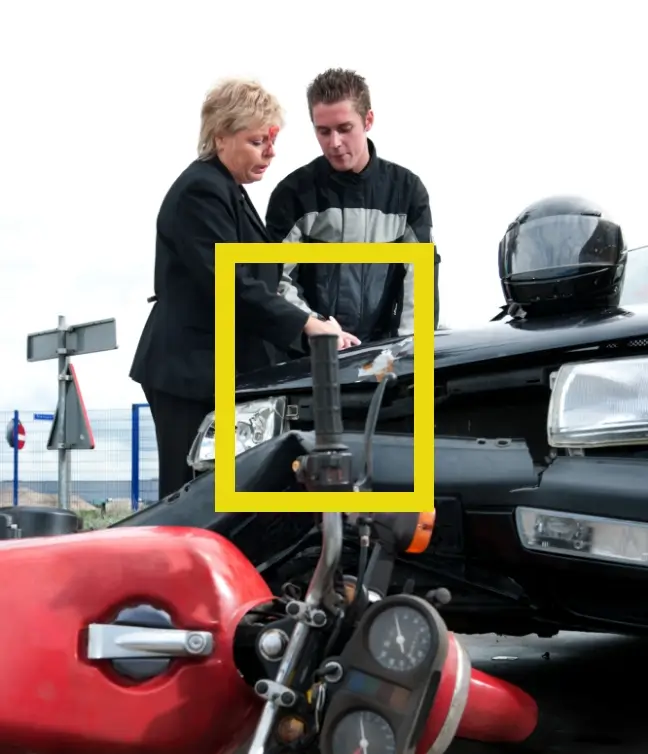 Draft a Demand Letter to Help You Pursue Compensation
Working with personal injury lawyers in Bloomington, IL to create a well-drafted demand letter can help improve your chances of recovering compensation from the insurer or other liable party. At our law firm, we help injury victims draft a demand letter that includes information about your accident, evidence of your injuries and losses, and a request for payment from the insurance company. When Terry Dodds sends a demand letter on your behalf, it sends a message to the insurance companies that you are serious about your claim.
Negotiate with Insurance Companies
Settlement negotiations with insurance companies are a vital part of the recovery process, and they are not something you'll want to go through on your own. The more complicated your case is, or the more serious your injuries, the harder insurance companies will fight to avoid paying your claim. Without personal injury lawyers to handle settlement negotiations on your behalf, you'll be forced to go up against trained insurance representatives and their attorneys on your own. At Dodds Law Office, our law firm will handle all communication with the insurer for you, so you can concentrate on your medical treatments, and getting better.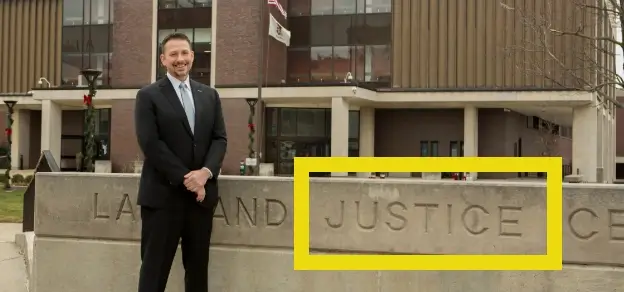 If settlement negotiations are unsuccessful, your case will go to trial. Entering the courtroom without legal representation is one of the worst mistakes you can make as an injured party. Without a lawyer who is experienced with personal injury law, jury trials, and civil litigation, most people never complete their lawsuits. They often lack the evidence necessary to prove their injuries, or liability, or both. Oftentimes, valid injury cases are simply dismissed.
How Long Do I Have to File a Personal Injury Lawsuit in Illinois?
Illinois places a two-year statute of limitations on personal injury lawsuits. Generally, you have two years from the date of your accident to file your lawsuit. However, initiating your claim sooner, rather than later, increases your chance of achieving the best possible outcome.
Evidence and eyewitness memory can deteriorate over time. Contacting a personal injury lawyer in Bloomington immediately after your accident helps ensure the supporting evidence for your case is preserved. Additionally, acting quickly prevents you from missing important filing deadlines that apply to your case.
There are some exceptions to the statute of limitations for personal injury lawsuits in Illinois.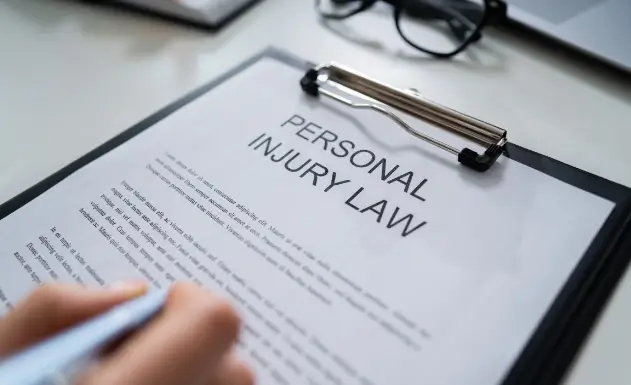 Filing a Lawsuit for a Child Who Suffered Injuries
Cases involving minors have special provisions regarding the amount of time victims have to seek damages in Bloomington, IL. Child victims of car accidents, trucking accidents, and other personal injury incidents in Illinois have up to eight years from the date of the accident to take legal action. However, the time limit expires on the victim's 22nd birthday.
Filing a Claim After a Fatal Accident
Cases involving minors have special provisions regarding the amount of time victims have to seek damages in Bloomington, IL. Child victims of car accidents, trucking accidents, and other personal injury incidents in Illinois have up to eight years from the date of the accident to take legal action. However, the time limit expires on the victim's 22nd birthday.
For an experienced personal injury lawyer in Bloomington, IL, Call Dodds Law Office at (309) 829-9300. FREE consultations.
How Much Is My Personal Injury Case Worth?
The value of your claim is determined by various factors in your case. For cases involving more severe injuries, awards are typically higher because medical treatment costs are higher. Victims of more serious personal injury accidents are also more likely to sustain a permanent disability and miss more time from work during recovery. Both of these factors contribute to a higher settlement value.
In addition to medical costs and lost wages, several other factors can increase the value of your personal injury case. Pain and suffering you've endured, emotional damages (such as anxiety, depression, and PTSD), future lost wages due to reduced working capacity, and loss of consortium are also considered when calculating the damages you can recover in a personal injury claim.
Recoverable Damages in Personal Injury Cases
Most personal injury claims have similar types of damages available. These damages fall into three primary categories: economic, non-economic, and punitive damages.
Economic damages are those that carry a set financial value. Their value does not fluctuate depending on who is evaluating them. Examples of economic damages include medical care costs, lost wages, and costs for medical equipment or prescriptions. Injury lawyers in Bloomington will review your bills, receipts, and wage statements to determine your economic damages.
Non-economic damages are subjective, and not tied to a monetary value. Typically, non-economic damages include emotional trauma, such as PTSD, depression, and anxiety, loss of consortium, disfigurement, loss of enjoyment of life, and physical pain and suffering. Your lawyer will use your medical records, expert opinions, and statements from your medical team to help prove these damages.
Punitive damages are reserved for cases where the at-fault party's actions were egregiously negligent or intentional. Examples include motor vehicle accidents where the at-fault party was intoxicated, or car accidents involving road rage. Punitive damages are calculated on a case-by-case basis and are less common than economic or non-economic damages.
Types of Cases Personal Injury Lawyers Handle
Bloomington personal injury attorney Terry Dodds represents accident victims in a wide range of personal injury cases in Illinois. These include, but are not limited to:
Were you
injured in a slip and fall accident
on someone else's property in McLean County? If you lost income, or you required medical care for your injuries, you may be entitled to compensation. Bloomington personal injury attorney Terry Dodds can help you sue the negligent property owner, manager, or other responsible parties.
If you suffered injuries in a
car accident
,
truck accident
, or another type of motor vehicle accident, you may have a valid claim against multiple parties. Personal injury lawyer Terry Dodds will investigate your case to identify all at-fault drivers and other negligent parties who may have played a role in causing your car accident injuries.
Although manufacturers and retailers owe a duty to consumers to make sure their products are relatively safe, dangerous products are lurking everywhere in central Illinois. When negligent product manufacturers and retailers put profits before people and someone is injured, Terry Dodds makes sure justice is swift.
When a loved one moves to a nursing home in central Illinois, it is expected that the resident will be treated with a standard level of care and respect. Sadly, thousands of nursing home residents suffer severe physical and emotional abuse and neglect at the hands of their caregivers. If your loved one was abused or neglected in a nursing home, he or she has the right to compensation from the healthcare professional or nursing home facility.
Injuries Commonly Seen by Personal Injury Attorneys
The world is a dangerous place. In the blink of an eye, another party's negligence, recklessness, or malicious actions can turn your life upside down. From minor scrapes and bruises to catastrophic injuries, personal injury attorneys in Bloomington, IL have seen it all. Some of the most common injuries seen by attorneys in central Illinois include:
Is an amazing attorney will work with you, he'll talk with you and help you and fight for your settlement to the Max and to the best of his ability I suggest going to him, he's very honest, and he fights to the end thank you, Terry
Frequently Asked Questions About Personal Injury Claims in Bloomington, IL
What Factors Make up A Sound and Viable Personal Injury Claim?
The three factors that are needed for a good personal injury claim are large damages or injuries, clear liability, and deep pockets. Someone might be negligent but without permanent or objective injuries, there is no case. You cannot have one without the other. They co-exist.
The same is true with respect to large damages or severe injuries. Someone who has suffered a severe injury, such as spinal cord injury or traumatic brain injury, likely has a very large amount of medical bills. In other words, they have high damages. Without liability though or someone else who was negligent, like another driver who was at fault, there isn't much of a case. Unless someone else is at fault, there is no recovery. Again, damages and liability co-exist.
A source of recovery is the third element. If someone has suffered a spinal cord injury or brain injury, and the liable defendant only has a $100,000 of insurance coverage, but their bills total hundreds of thousands, unless the liable party has independent wealth or has property, $100,000 is going to be the most the injured person is likely to see, unfortunately.
How Important Are Evidence and Witnesses in A Personal Injury Case?
Without evidence, you don't have a case. If someone is injured as a result of someone else's negligence, documentation and evidence are very important. The injured person or someone close to them should take pictures of the entire scene and the injured person immediately.
Contacting an attorney right away is also critical. An attorney knows what to look for and what to do. They may want to send out a preservation letter to ensure that the automobile or the other instrumentality that caused the injury is preserved and not recycled or disposed of, as it may happen in some cases. Another example of this would be video footage from a surveillance camera, stop-light camera, or any other source of video. Electronic Data from a semi or automobile also fits into this category. This data is retrieved from what some people refer to as the "Black Box" or event data recorder (EDR) or electronic control module (ECM). Retrieving the electronic data from a tractor-trailer shortly after an accident is especially important. This is another important reason to hire an Illinois lawyer. Data from a tractor-trailer's black box or event data recorder (EDR) can disappear or be overwritten. A preservation letter from an Illinois attorney is very important in an automobile accident such as this.
An automobile or motorcycle can be shipped to salvage, or even to another country. This is especially true in automobile cases. Perhaps there was something faulty with the truck or car, or perhaps the fault was with the semi-truck. There are a variety of reasons to contact a good and competent attorney.
An experienced lawyer will often go to the scene of accidents themselves so that they know what people are referring to when it is being discussed. Attorney Terry Dodds located in Bloomington, Illinois has visited many intersections, city streets, county roads, junkyards, and more in order to get a sense of the damage or the scene of the accident.
Should You Ever Keep a Diary or A Journal of What Happens in The Accident?
Keeping a diary or journal of these events is often a very good idea, especially so the attorney knows what doctors and hospitals were visited. A physician or a doctor might also forget to put something in the records that was very important. If confronted with the journal or a diary entry of the patient, they may suddenly recall it. Keep in mind, diaries and journals can also be admissible sometimes. They are an exception to the hearsay rule if the entries are made at or near the time of the event.
Read about the Factors That Make A Strong Personal Injury Claim, contact the Dodds Law Office, PC for a free 30-minute consultation at and get the information and legal answers you're seeking.
What Type of Attorney Do You Need?